Learn how to crochet a simple bow using Tunisian Knit Stitch. Using any yarn of your choice and a regular crochet hook you can make these bows very quickly! Add to a clip or headband for a hair bow or tie onto a gift for a classic homemade look. Included video tutorial for extra help!
The following post contains affiliate links. By clicking on the links you are supporting my site and allowing me to continue to create free content. I promise, I only share products that I use and love! For more information please see my disclosure page.
I used this bow for my Mouse Ears Headband so be sure to check out that pattern here.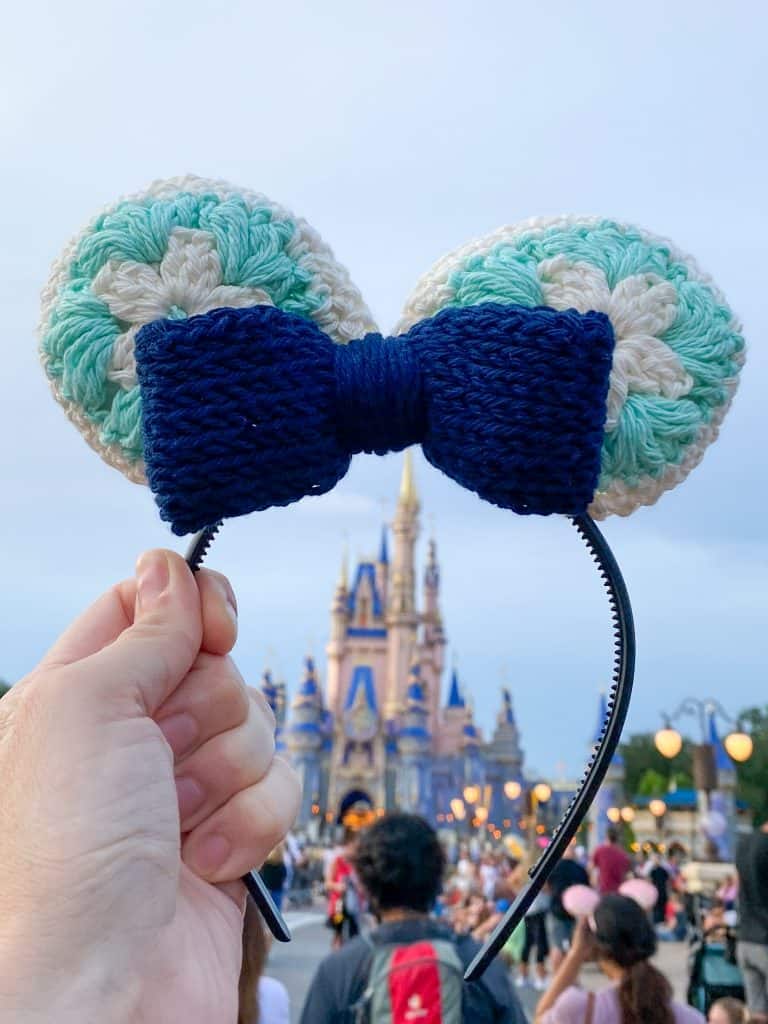 Supplies:
You can use any yarn you want, just adjust your hook size. Be careful not to go too large on your hook size for the yarn. You want a really dense fabric so your bow can stand up properly. If you are in the market for a new hook, I highly recommend these Prym Hooks. My local Michaels just started selling them so I was able to use a coupon but of course, Amazon has them as well! On Amazon, you can buy them individually or as a set!
They feel dreamy in your hand and provide excellent ergonomics allowing you to crochet longer! Not to mention it glides effortlessly in your yarn reducing any potential snags along the way. The hooks remind me a lot of the Furls Streamline hooks but at a much more affordable cost.
Now, let's get stitching and make our bow!
Tunisian Crochet Basics:
Every row in Tunisian crochet is worked in 2 steps: Forward Pass (FwP): working loops onto your hook and Return Pass (RetP): working loops off your hook.
The Return Pass (RetP) is always the same for each row. Start by chaining 1 (yo and draw through 1 loop), *yo and draw through 2 loops on your hook* repeat across until 1 loop left on hook.
We will be using Tunisian Knit Stitch (tks) for this pattern. After you complete your Foundation Row/Row 1. Every row will be the same until our project reaches the desired length (10.5″ in this case).
It is important to keep consistent tension throughout the project so your stitches look clean and uniform. It's ok for the edges to have a very slight wave. This won't be noticeable in the end.
The Pattern:
Instructions are for FwP. RetP instructions are always the same (see above).
Foundation Row/Row 1: Chain 8. Flip your chain over and draw up a loop in the back bump (Photo A) of each stitch starting in the 2nd from your hook.
Row 2: Tunisian Knit Stitch (tks) across by entering your hook and drawing up a loop in between the front and back vertical bars of each stitch (Photo B). Repeat across until you reach your final vertical bar. For the final vertical bar, turn your work to the side and insert your hook under the 2 side bars and draw up a loop. RetP as usual.
Rows 3-38: Repeat Row 2 until 10.5″ long or around 38 rows.
Assembling your Bow:
Flip over and meet the two ends then Slip Stitch together.
Cut yarn with a very generous tail and then tie off.
Fold your bow in half at the center towards the back seam and begin to wrap your tail around the center until you reach your desired thickness.
Once done wrapping, weave in your tail around the back of your bow.
Then you are done! You can use your bow for endless projects! Attach to gifts, a headband for baby, an alligator clip for a hairbow for any age! And of course, I highly recommend making my Mouse Ears Headband pattern for your next trip to Disney! Tag me on Instagram or leave a comment below so I can see all the creative ways you used your bow!