Running out of time for those last-minute Christmas gifts? Check out this quick cowl using only one skein of Lion Brand Go For Faux Thick & Quick. A luxurious soft fur finish that everyone will love!
The following post contains affiliate links. By clicking on the links you are supporting my site and allowing me to continue to create free content. I promise, I only share products that I use and love! For more information please see my disclosure page.
This quick cowl, may seem small but is incredibly warm. The 100% polyester faux fur yarn provides a tremendous amount of warmth! That being said if you do live somewhere really cold, you can easily add an extra skein and double the initial chain for your cowl to be much thicker. I live in Florida, so the few actually cold days we get each year, I have found a tremendous amount of warmth from my single skein cowl.
The Yarn
This yarn is simply amazing. Every time I wear my cowl, I get tons of compliments and questions if it's real fur. It's that realistic! The stitches quickly morph together to create a gorgeous cohesive appearance. It works really great for borders on hats, blankets, coats, and more! It's also machine washable but it is suggested to lay flat to dry. I first made my cowl 3 years ago and made about 6 more for Christmas gifts for family. I've washed it multiple times and it has withstood the test of time lending to just how great this yarn is.
I have read some reviews that stated some colors shed more than others. I have primarily used Chow-Chow (pictured above), Chinchilla and Husky. I have never had a problem with any of these colors shedding.
Lion Brand makes this same exact yarn in a non "thick & quick" thiner super bulky version. You can absolutely use the thinner version for this pattern but will need to increase your initial chain and it will take a little longer to complete than this Jumbo Thick & Quick version. For more information on the complete Go For Faux lineup be sure to check out my blog post where I review each one.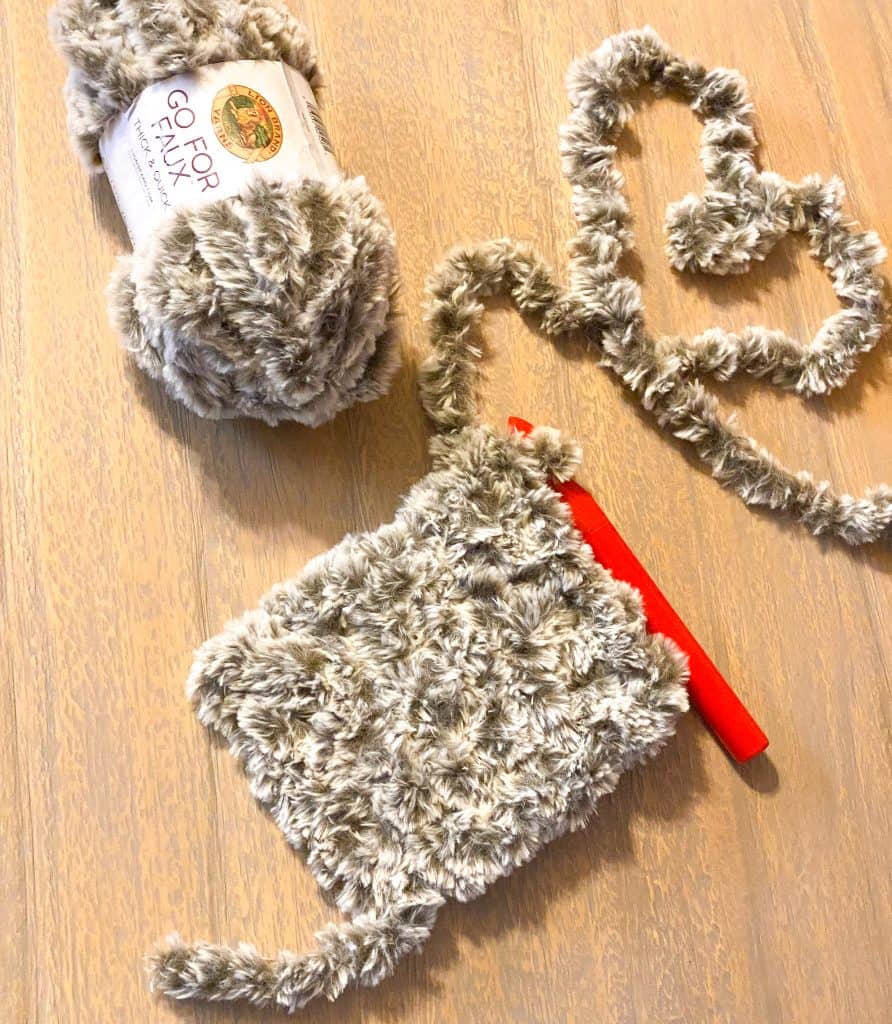 Supplies:
Instructions:
Chain 6 (12 if using 2 skeins)
Rwo 1: Sc in 2nd chain for hook, *ch 1, skip stitch, sc in next st* Repeat ending with sc in final stitch (instead of the last ch 1 gap)
Row 2: Ch 2, sc in first ch 1 space, *ch 1, sc in next ch 1 space* Repeat ending with sc in final stitch (instead of the last ch 1 gap)./
Repeat Row 2 until abut 6 inches (12 if doing 2 skeins) of yarn in left. You should have a long flat panel, Then using your fingers, weave the two short ends together and tie off! You should be able to easily weave in the ends of the yarn to hide your tails.