Baby's 1st Christmas Free C2C Crochet Blanket Pattern
The following post contains affiliate links. By clicking on the links you are supporting my site and allowing me to continue to create free content. I promise, I only share products that I use and love! For more information please see my disclosure page. 
Capture the magic of Baby's 1st Christmas with this heirloom Christmas blanket that can be enjoyed by generations of newborns. Quickly crochet this C2C blanket with this free pattern and graphghan.
This blanket has been many years in the making. I originally had the idea while watching one of my favorite YouTube channels. She was decluttering her closet and pulled out a blanket that said Baby's 1st Christmas and was going on about how she had it for all her kids and it was a family heirloom. I immediately thought I had to make a blanket that says that for my next child. Now, my second child is here, and after countless hours of designing, it's done! The only problem, for me, is that life gets busy and I did not complete this blanket in time before Christmas.
Since I have not finished mine yet… I am offering the Graphghan for FREE here on my blog and there will not be an ETSY listing for it. I contemplated abandoning the project altogether but realized I put too much love into creating the design on the computer to not share it with the world!
I absolutely love designing and making C2C blankets but as a mom with two very young kids, I have the hardest time working on them without the kids tangling and "reorganizing" my yarn. Soooo if anyone has any ideas on how to organize/kid proof your skeins for C2C blankets please let me know in the comments.
For the yarn, I chose to add a little bit of sparkle to my project by using Caron Simply Soft Party in Red for the letters. This yarn is exactly the same as the regular Simply Soft except it has a shiny strand of almost tinsel running through it. I will say this yarn can be kind of annoying because the tinsel can split but since this blanket is really a photo prop/heirloom blanket, I think it adds some fun sparkle!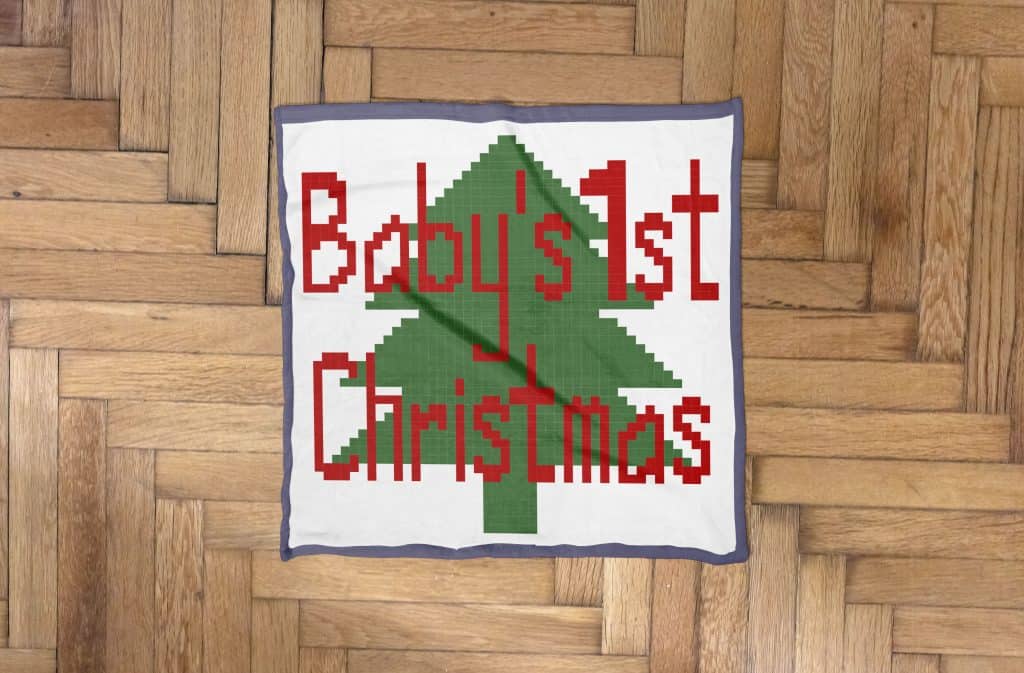 Supplies:
Caron Simply Soft Yarn: (totals approximate)
5mm Crochet Hook (this one is my favorite!)
Border: Go for Faux Sparkle in Star or Pipsqueak (OPTIONAL but would be adorable)
Pattern Notes
C2C Basics:

Each square is made up of 3 double crochets.
For basic construction, I highly recommend this YouTube video:

The pattern is a square blanket so once you begin decreasing you will decrease on both ends.
For changing colors, before finishing the last stitch of old color, put a loop of new color on hook and pull through. https://youtu.be/SbG78BvZw8E
Another option for changing colors in to carry your yarn underneath the square you are working. A lot of people hate this method because you can see the yarn slightly but I personally hate weaving in ends even more. So if you'd like to learn more about carrying your yarn then check out this YouTube video: https://youtu.be/Mb4sqLTkKtQ
Finished Size: 40″ x 40″
Baby's First Christmas (40″ x 40″)
All squares are worked as a standard C2C with 3 Double Crochets.

↙ Row 1 [RS]: (WH) x 1 (1 square)
↗ Row 2 [WS]: (WH) x 2 (2 squares)
↙ Row 3 [RS]: (WH) x 3 (3 squares)
↗ Row 4 [WS]: (WH) x 4 (4 squares)
↙ Row 5 [RS]: (WH) x 5 (5 squares)
↗ Row 6 [WS]: (WH) x 6 (6 squares)
↙ Row 7 [RS]: (WH) x 7 (7 squares)
↗ Row 8 [WS]: (WH) x 8 (8 squares)
↙ Row 9 [RS]: (WH) x 9 (9 squares)
↗ Row 10 [WS]: (WH) x 10 (10 squares)
↙ Row 11 [RS]: (WH) x 11 (11 squares)
↗ Row 12 [WS]: (WH) x 12 (12 squares)
↙ Row 13 [RS]: (WH) x 3, (RED) x 2, (WH) x 8 (13 squares)
↗ Row 14 [WS]: (WH) x 8, (RED) x 3, (WH) x 3 (14 squares)
↙ Row 15 [RS]: (WH) x 3, (RED) x 1, (WH) x 1, (RED) x 1, (WH) x 9 (15 squares)
↗ Row 16 [WS]: (WH) x 9, (RED) x 1, (GRN) x 1, (WH) x 1, (RED) x 1, (WH) x 3 (16 squares)
↙ Row 17 [RS]: (WH) x 4, (RED) x 1, (WH) x 1, (RED) x 1, (WH) x 1, (RED) x 1, (WH) x 8 (17 squares)
↗ Row 18 [WS]: (WH) x 9, (RED) x 1, (GRN) x 2, (WH) x 1, (RED) x 1, (WH) x 4 (18 squares)
↙ Row 19 [RS]: (WH) x 3, (RED) x 1, (WH) x 1, (RED) x 1, (WH) x 1, (GRN) x 1, (RED) x 3, (WH) x 8 (19 squares)
↗ Row 20 [WS]: (WH) x 8, (RED) x 4, (GRN) x 1, (WH) x 1, (RED) x 1, (WH) x 1, (RED) x 1, (WH) x 3 (20 squares)
↙ Row 21 [RS]: (WH) x 4, (RED) x 1, (WH) x 1, (RED) x 1, (WH) x 1, (RED) x 1, (GRN) x 2, (WH) x 1, (RED) x 1, (WH) x 8 (21 squares)
↗ Row 22 [WS]: (WH) x 9, (RED) x 1, (GRN) x 3, (RED) x 1, (WH) x 1, (RED) x 3, (WH) x 4 (22 squares)
↙ Row 23 [RS]: (WH) x 5, (RED) x 2, (WH) x 1, (RED) x 1, (GRN) x 3, (RED) x 1, (WH) x 1, (RED) x 1, (WH) x 8 (23 squares)
↗ Row 24 [WS]: (WH) x 9, (RED) x 1, (GRN) x 1, (RED) x 1, (GRN) x 3, (RED) x 1, (WH) x 8 (24 squares)
↙ Row 25 [RS]: (WH) x 9, (RED) x 4, (GRN) x 1, (RED) x 1, (WH) x 1, (RED) x 1, (WH) x 5, (GRN) x 1, (WH) x 2 (25 squares)
↗ Row 26 [WS]: (WH) x 2, (GRN) x 2, (WH) x 5, (RED) x 1, (GRN) x 1, (RED) x 1, (GRN) x 1, (RED) x 4, (WH) x 2, (GRN) x 1, (WH) x 6 (26 squares)
↙ Row 27 [RS]: (WH) x 7, (GRN) x 1, (WH) x 3, (GRN) x 3, (RED) x 1, (GRN) x 1, (RED) x 1, (WH) x 1, (RED) x 1, (WH) x 3, (GRN) x 3, (WH) x 2 (27 squares)
↗ Row 28 [WS]: (WH) x 2, (GRN) x 4, (WH) x 3, (RED) x 1, (GRN) x 1, (RED) x 1, (GRN) x 1, (RED) x 1, (GRN) x 3, (WH) x 2, (GRN) x 2, (WH) x 7 (28 squares)
↙ Row 29 [RS]: (WH) x 8, (GRN) x 2, (WH) x 2, (GRN) x 2, (RED) x 1, (GRN) x 1, (RED) x 1, (GRN) x 1, (RED) x 1, (WH) x 1, (RED) x 1, (WH) x 1, (GRN) x 5, (WH) x 2 (29 squares)
↗ Row 30 [WS]: (WH) x 2, (GRN) x 6, (RED) x 2, (GRN) x 1, (RED) x 1, (GRN) x 1, (RED) x 1, (GRN) x 1, (RED) x 1, (GRN) x 2, (WH) x 1, (GRN) x 3, (WH) x 8 (30 squares)
↙ Row 31 [RS]: (WH) x 9, (GRN) x 3, (WH) x 1, (GRN) x 1, (RED) x 1, (GRN) x 1, (RED) x 1, (GRN) x 1, (RED) x 1, (GRN) x 2, (RED) x 2, (GRN) x 5, (WH) x 3 (31 squares)
↗ Row 32 [WS]: (WH) x 4, (GRN) x 5, (RED) x 1, (GRN) x 3, (RED) x 1, (GRN) x 1, (RED) x 2, (GRN) x 6, (WH) x 6, (RED) x 1, (WH) x 2 (32 squares)
↙ Row 33 [RS]: (WH) x 2, (RED) x 2, (WH) x 6, (GRN) x 5, (RED) x 2, (GRN) x 1, (RED) x 1, (GRN) x 3, (RED) x 1, (GRN) x 5, (WH) x 5 (33 squares)
↗ Row 34 [WS]: (WH) x 6, (GRN) x 5, (RED) x 1, (GRN) x 3, (RED) x 2, (GRN) x 7, (WH) x 5, (RED) x 2, (WH) x 3 (34 squares)
↙ Row 35 [RS]: (WH) x 4, (RED) x 1, (WH) x 6, (GRN) x 6, (RED) x 2, (GRN) x 3, (RED) x 1, (GRN) x 2, (RED) x 2, (GRN) x 1, (WH) x 7 (35 squares)
↗ Row 36 [WS]: (WH) x 8, (RED) x 3, (GRN) x 2, (RED) x 1, (GRN) x 11, (WH) x 6, (RED) x 1, (WH) x 4 (36 squares)
↙ Row 37 [RS]: (WH) x 4, (RED) x 1, (WH) x 7, (GRN) x 10, (RED) x 1, (GRN) x 2, (RED) x 1, (GRN) x 1, (RED) x 1, (WH) x 9 (37 squares)
↗ Row 38 [WS]: (WH) x 9, (RED) x 1, (GRN) x 2, (RED) x 1, (GRN) x 2, (RED) x 1, (GRN) x 1, (RED) x 1, (GRN) x 8, (WH) x 2, (GRN) x 1, (RED) x 2, (WH) x 2, (RED) x 1, (WH) x 4 (38 squares)
↙ Row 39 [RS]: (WH) x 4, (RED) x 1, (WH) x 2, (RED) x 3, (GRN) x 1, (WH) x 2, (GRN) x 7, (RED) x 3, (GRN) x 3, (RED) x 1, (GRN) x 1, (RED) x 1, (WH) x 1, (RED) x 1, (WH) x 8 (39 squares)
↗ Row 40 [WS]: (WH) x 9, (RED) x 1, (GRN) x 3, (RED) x 1, (GRN) x 3, (RED) x 2, (GRN) x 8, (WH) x 1, (GRN) x 2, (RED) x 1, (WH) x 1, (RED) x 1, (WH) x 2, (RED) x 1, (WH) x 4 (40 squares)
↙ Row 41 [RS]: (WH) x 4, (RED) x 1, (WH) x 2, (RED) x 1, (WH) x 2, (RED) x 1, (GRN) x 2, (WH) x 1, (GRN) x 8, (RED) x 2, (GRN) x 1, (RED) x 1, (GRN) x 1, (RED) x 1, (GRN) x 2, (RED) x 1, (WH) x 10 (41 squares)
↗ Row 42 [WS]: (WH) x 10, (GRN) x 1, (RED) x 1, (GRN) x 2, (RED) x 1, (GRN) x 1, (RED) x 4, (GRN) x 7, (WH) x 1, (GRN) x 1, (RED) x 1, (GRN) x 1, (RED) x 1, (WH) x 1, (RED) x 1, (WH) x 3, (RED) x 1, (WH) x 1, (RED) x 1, (WH) x 2 (42 squares)
↙ Row 43 [RS]: (WH) x 2, (RED) x 3, (WH) x 3, (RED) x 1, (WH) x 3, (RED) x 2, (GRN) x 8, (RED) x 1, (GRN) x 1, (RED) x 1, (GRN) x 1, (RED) x 1, (GRN) x 1, (RED) x 1, (GRN) x 1, (RED) x 1, (GRN) x 2, (WH) x 10 (43 squares)
↗ Row 44 [WS]: (WH) x 8, (RED) x 1, (WH) x 1, (GRN) x 3, (RED) x 1, (GRN) x 1, (RED) x 3, (GRN) x 3, (RED) x 1, (GRN) x 8, (RED) x 2, (WH) x 2, (RED) x 1, (WH) x 1, (RED) x 1, (WH) x 2, (RED) x 2, (WH) x 3 (44 squares)
↙ Row 45 [RS]: (WH) x 4, (RED) x 2, (WH) x 1, (RED) x 1, (WH) x 1, (RED) x 1, (WH) x 2, (RED) x 2, (GRN) x 8, (RED) x 1, (GRN) x 4, (RED) x 2, (GRN) x 1, (RED) x 1, (GRN) x 4, (RED) x 1, (WH) x 9 (45 squares)
↗ Row 46 [WS]: (WH) x 8, (RED) x 1, (WH) x 1, (RED) x 1, (GRN) x 4, (RED) x 1, (GRN) x 7, (RED) x 1, (GRN) x 8, (RED) x 2, (WH) x 1, (RED) x 1, (WH) x 1, (RED) x 1, (WH) x 1, (RED) x 3, (WH) x 4 (46 squares)
↙ Row 47 [RS]: (WH) x 4, (RED) x 1, (WH) x 1, (RED) x 1, (WH) x 1, (RED) x 3, (WH) x 1, (RED) x 2, (GRN) x 16, (RED) x 1, (GRN) x 1, (RED) x 1, (GRN) x 2, (RED) x 1, (GRN) x 1, (RED) x 1, (WH) x 9 (47 squares)
↗ Row 48 [WS]: (WH) x 10, (RED) x 1, (GRN) x 1, (RED) x 1, (GRN) x 2, (RED) x 1, (GRN) x 6, (RED) x 1, (GRN) x 11, (RED) x 2, (WH) x 1, (RED) x 2, (WH) x 4, (RED) x 1, (WH) x 4 (48 squares)
↙ Row 49 [RS]: (WH) x 4, (RED) x 1, (WH) x 7, (RED) x 2, (WH) x 1, (GRN) x 3, (RED) x 2, (GRN) x 5, (RED) x 2, (GRN) x 3, (RED) x 1, (GRN) x 1, (RED) x 4, (GRN) x 1, (RED) x 1, (GRN) x 1, (WH) x 1, (RED) x 1, (WH) x 8 (49 squares)
↗ Row 50 [WS]: (WH) x 9, (RED) x 1, (GRN) x 2, (RED) x 1, (GRN) x 1, (RED) x 3, (GRN) x 2, (RED) x 1, (GRN) x 2, (RED) x 1, (GRN) x 1, (RED) x 1, (GRN) x 4, (RED) x 3, (GRN) x 3, (WH) x 1, (RED) x 2, (WH) x 12 (50 squares)
Corner (begin decreasing on both ends)
↙ Row 51 [RS]: (WH) x 11, (RED) x 2, (GRN) x 1, (WH) x 1, (GRN) x 2, (RED) x 1, (GRN) x 1, (RED) x 1, (GRN) x 4, (RED) x 1, (GRN) x 2, (RED) x 1, (GRN) x 6, (RED) x 1, (GRN) x 1, (RED) x 1, (GRN) x 2, (RED) x 1, (WH) x 9 (49 squares)
↗ Row 52 [WS]: (WH) x 6, (RED) x 2, (GRN) x 1, (RED) x 1, (GRN) x 2, (RED) x 1, (GRN) x 1, (RED) x 1, (GRN) x 6, (RED) x 1, (GRN) x 2, (RED) x 1, (GRN) x 3, (RED) x 1, (GRN) x 2, (RED) x 1, (GRN) x 4, (RED) x 2, (WH) x 10 (48 squares)
↙ Row 53 [RS]: (WH) x 9, (RED) x 2, (WH) x 1, (GRN) x 4, (RED) x 1, (GRN) x 1, (RED) x 1, (GRN) x 3, (RED) x 1, (GRN) x 11, (RED) x 1, (GRN) x 2, (RED) x 1, (GRN) x 1, (RED) x 3, (WH) x 5 (47 squares)
↗ Row 54 [WS]: (WH) x 4, (RED) x 2, (GRN) x 3, (RED) x 1, (GRN) x 2, (RED) x 1, (GRN) x 11, (RED) x 1, (GRN) x 5, (RED) x 1, (GRN) x 4, (WH) x 1, (RED) x 2, (WH) x 8 (46 squares)
↙ Row 55 [RS]: (WH) x 7, (RED) x 2, (WH) x 2, (GRN) x 2, (RED) x 1, (GRN) x 1, (RED) x 1, (GRN) x 4, (RED) x 1, (GRN) x 11, (RED) x 1, (WH) x 2, (RED) x 1, (GRN) x 4, (RED) x 1, (WH) x 4 (45 squares)
↗ Row 56 [WS]: (WH) x 3, (RED) x 1, (WH) x 5, (RED) x 1, (WH) x 1, (RED) x 1, (WH) x 1, (GRN) x 11, (RED) x 1, (GRN) x 4, (RED) x 1, (GRN) x 1, (RED) x 1, (GRN) x 2, (WH) x 1, (RED) x 3, (WH) x 6 (44 squares)
↙ Row 57 [RS]: (WH) x 5, (RED) x 4, (WH) x 1, (GRN) x 2, (RED) x 1, (GRN) x 1, (RED) x 1, (GRN) x 3, (RED) x 2, (GRN) x 11, (WH) x 1, (RED) x 2, (WH) x 5, (RED) x 1, (WH) x 3 (43 squares)
↗ Row 58 [WS]: (WH) x 3, (RED) x 1, (WH) x 5, (RED) x 1, (WH) x 1, (GRN) x 11, (RED) x 1, (GRN) x 1, (RED) x 1, (GRN) x 3, (RED) x 3, (GRN) x 2, (RED) x 4, (WH) x 5 (42 squares)
↙ Row 59 [RS]: (WH) x 6, (RED) x 2, (WH) x 1, (GRN) x 2, (RED) x 2, (GRN) x 3, (RED) x 1, (GRN) x 2, (RED) x 1, (GRN) x 11, (RED) x 1, (WH) x 5, (RED) x 1, (WH) x 3 (41 squares)
↗ Row 60 [WS]: (WH) x 3, (RED) x 1, (WH) x 5, (RED) x 1, (GRN) x 11, (RED) x 1, (GRN) x 2, (RED) x 1, (GRN) x 7, (WH) x 8 (40 squares)
↙ Row 61 [RS]: (WH) x 8, (GRN) x 6, (RED) x 1, (GRN) x 2, (RED) x 1, (GRN) x 11, (RED) x 1, (GRN) x 1, (WH) x 4, (RED) x 1, (WH) x 3 (39 squares)
↗ Row 62 [WS]: (WH) x 3, (RED) x 1, (WH) x 3, (GRN) x 2, (RED) x 1, (GRN) x 8, (RED) x 2, (GRN) x 1, (RED) x 1, (GRN) x 2, (RED) x 1, (GRN) x 6, (WH) x 7 (38 squares)
↙ Row 63 [RS]: (WH) x 7, (GRN) x 3, (RED) x 1, (GRN) x 1, (RED) x 1, (GRN) x 2, (RED) x 1, (GRN) x 1, (RED) x 3, (GRN) x 2, (WH) x 1, (GRN) x 4, (RED) x 1, (GRN) x 1, (RED) x 1, (GRN) x 1, (WH) x 2, (RED) x 1, (WH) x 3 (37 squares)
↗ Row 64 [WS]: (WH) x 3, (RED) x 1, (WH) x 3, (RED) x 1, (WH) x 6, (GRN) x 2, (RED) x 1, (GRN) x 2, (RED) x 1, (GRN) x 1, (RED) x 1, (GRN) x 2, (RED) x 1, (GRN) x 1, (RED) x 1, (GRN) x 3, (WH) x 6 (36 squares)
↙ Row 65 [RS]: (WH) x 6, (GRN) x 2, (RED) x 1, (GRN) x 4, (RED) x 1, (GRN) x 1, (RED) x 1, (GRN) x 2, (RED) x 2, (GRN) x 2, (WH) x 6, (RED) x 1, (WH) x 2, (RED) x 1, (WH) x 3 (35 squares)
↗ Row 66 [WS]: (WH) x 3, (RED) x 1, (WH) x 1, (RED) x 2, (WH) x 5, (GRN) x 3, (RED) x 1, (GRN) x 3, (RED) x 1, (GRN) x 1, (RED) x 1, (GRN) x 4, (RED) x 1, (GRN) x 2, (WH) x 5 (34 squares)
↙ Row 67 [RS]: (WH) x 5, (GRN) x 1, (RED) x 1, (GRN) x 4, (RED) x 1, (GRN) x 1, (RED) x 1, (GRN) x 3, (RED) x 1, (GRN) x 1, (RED) x 1, (GRN) x 2, (WH) x 5, (RED) x 3, (WH) x 3 (33 squares)
↗ Row 68 [WS]: (WH) x 3, (RED) x 2, (WH) x 5, (GRN) x 3, (RED) x 1, (GRN) x 1, (RED) x 1, (GRN) x 2, (RED) x 1, (GRN) x 9, (WH) x 4 (32 squares)
↙ Row 69 [RS]: (WH) x 4, (GRN) x 8, (RED) x 1, (GRN) x 2, (RED) x 1, (GRN) x 1, (RED) x 3, (GRN) x 2, (WH) x 9 (31 squares)
↗ Row 70 [WS]: (WH) x 10, (RED) x 4, (WH) x 1, (RED) x 3, (GRN) x 9, (WH) x 3 (30 squares)
↙ Row 71 [RS]: (WH) x 3, (GRN) x 9, (RED) x 2, (WH) x 1, (RED) x 1, (WH) x 3, (RED) x 1, (WH) x 9 (29 squares)
↗ Row 72 [WS]: (WH) x 9, (RED) x 1, (WH) x 3, (RED) x 1, (GRN) x 1, (RED) x 1, (GRN) x 10, (WH) x 2 (28 squares)
↙ Row 73 [RS]: (WH) x 2, (GRN) x 9, (RED) x 1, (GRN) x 1, (RED) x 1, (WH) x 3, (RED) x 1, (WH) x 9 (27 squares)
↗ Row 74 [WS]: (WH) x 9, (RED) x 1, (WH) x 3, (RED) x 1, (WH) x 1, (RED) x 1, (WH) x 10 (26 squares)
↙ Row 75 [RS]: (WH) x 9, (RED) x 1, (WH) x 2, (RED) x 4, (WH) x 1, (RED) x 3, (WH) x 5 (25 squares)
↗ Row 76 [WS]: (WH) x 4, (RED) x 4, (WH) x 1, (RED) x 4, (WH) x 2, (RED) x 1, (WH) x 8 (24 squares)
↙ Row 77 [RS]: (WH) x 7, (RED) x 1, (WH) x 7, (RED) x 1, (WH) x 3, (RED) x 1, (WH) x 3 (23 squares)
↗ Row 78 [WS]: (WH) x 2, (RED) x 1, (WH) x 4, (RED) x 1, (WH) x 7, (RED) x 1, (WH) x 6 (22 squares)
↙ Row 79 [RS]: (WH) x 5, (RED) x 1, (WH) x 8, (RED) x 1, (WH) x 3, (RED) x 1, (WH) x 2 (21 squares)
↗ Row 80 [WS]: (WH) x 2, (RED) x 1, (WH) x 3, (RED) x 1, (WH) x 13 (20 squares)
↙ Row 81 [RS]: (WH) x 13, (RED) x 1, (WH) x 2, (RED) x 1, (WH) x 2 (19 squares)
↗ Row 82 [WS]: (WH) x 2, (RED) x 5, (WH) x 11 (18 squares)
↙ Row 83 [RS]: (WH) x 10, (RED) x 5, (WH) x 2 (17 squares)
↗ Row 84 [WS]: (WH) x 2, (RED) x 2, (WH) x 2, (RED) x 1, (WH) x 9 (16 squares)
↙ Row 85 [RS]: (WH) x 8, (RED) x 1, (WH) x 3, (RED) x 1, (WH) x 2 (15 squares)
↗ Row 86 [WS]: (WH) x 2, (RED) x 1, (WH) x 2, (RED) x 2, (WH) x 7 (14 squares)
↙ Row 87 [RS]: (WH) x 7, (RED) x 1, (WH) x 2, (RED) x 1, (WH) x 2 (13 squares)
↗ Row 88 [WS]: (WH) x 2, (RED) x 1, (WH) x 1, (RED) x 2, (WH) x 6 (12 squares)
↙ Row 89 [RS]: (WH) x 6, (RED) x 3, (WH) x 2 (11 squares)
↗ Row 90 [WS]: (WH) x 2, (RED) x 2, (WH) x 6 (10 squares)
↙ Row 91 [RS]: (WH) x 6, (RED) x 1, (WH) x 2 (9 squares)
↗ Row 92 [WS]: (WH) x 8 (8 squares)
↙ Row 93 [RS]: (WH) x 7 (7 squares)
↗ Row 94 [WS]: (WH) x 6 (6 squares)
↙ Row 95 [RS]: (WH) x 5 (5 squares)
↗ Row 96 [WS]: (WH) x 4 (4 squares)
↙ Row 97 [RS]: (WH) x 3 (3 squares)
↗ Row 98 [WS]: (WH) x 2 (2 squares)
↙ Row 99 [RS]: (WH) x 1 (1 square)

Total: (WH) x 1301, (GRN) x 733, (RED) x 466