Maui Wildfires: Sending Virtual Love and Support to Hawaii's Crochet and Knitwear Designers
The following post contains affiliate links. By clicking on the links you are supporting my site and allowing me to continue to create free content. I promise, I only share products that I use and love! For more information please see my disclosure page. 
Help Support Maui Wildfires by Purchasing Digital Download Patterns from Maui's Talented Crochet and Knitwear Designers. My thoughts were to send virtual love to the talented members of our community by purchasing patterns from websites such as Ravelry, ETSY or by visiting their blogs directly. Below are the links that I have found in my research, to be designers located in Hawaii.
Full disclaimer: I am in no way affiliated with any of the designers linked in this blog. During my travels to the islands, the fiber artists and locals in craft stores were some of the kindest humans. Using my research skills, I wanted to try to spotlight their talents.
By purchasing digital pdf downloads (from websites such as Ravelry and ETSY) of crochet and knitwear patterns from the talented designers of Maui, you not only get a super awesome pattern filled with aloha but also help bring hope and support to a community devastated by wildfires.
Another great way to support is to visit their blogs. And when I mean visit, don't click away real fast. Spend some time there, browse around, read several articles. Basically, the way digital ads work is kind of like real estate. The more popularity and traffic to a shopping center, the higher the rent will be for each tenant. So more engaged users directly equals more money for the blogger.
Hawaii is a place that has truly captured my heart. We have been fortunate enough to visit the islands twice and my heart is truly broken by the devastating wildfires in Maui. Unable to get the images out of my mind, I have been trying to come up with a creative way to help real individuals. As a yarn enthusiast, I thought why not buy the PDF downloads of designers who live there. The PDF aspect makes it literally effortless for the designer but is also an easy way to put money directly into the community.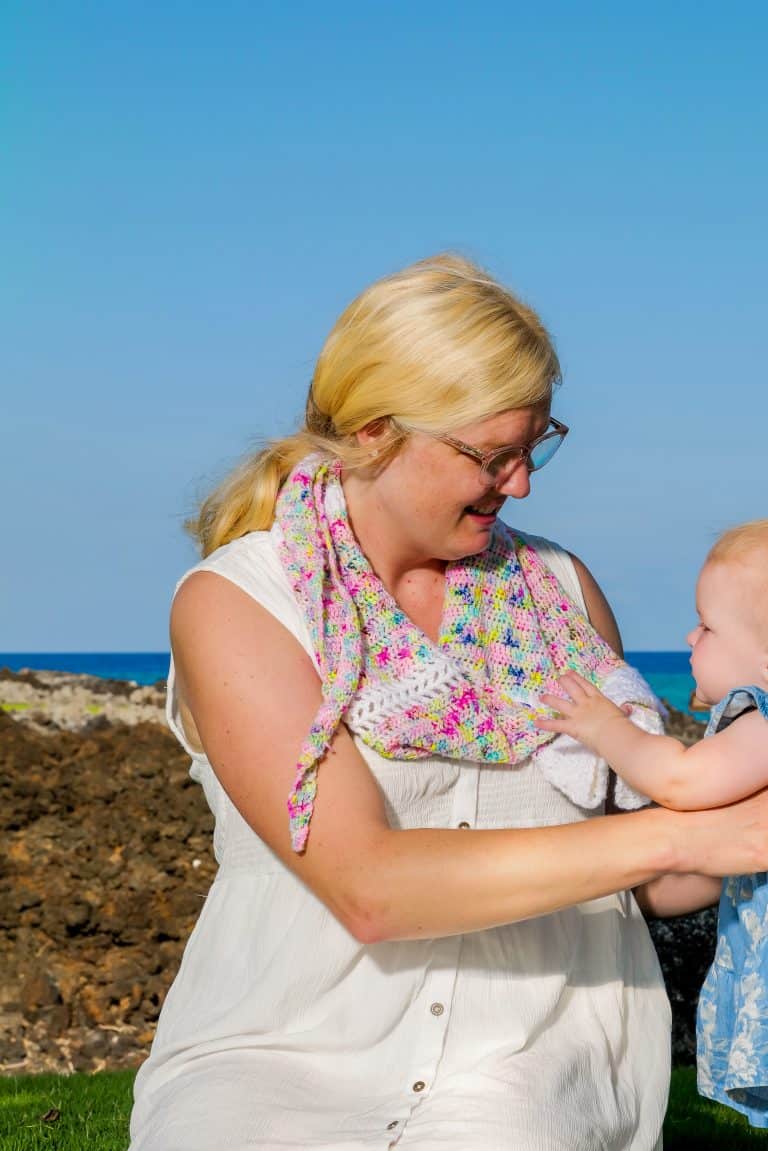 Hawaiians are known for supporting all things local, and by purchasing digital pdf downloads from local artists, you are putting money directly into the community in one capacity or another. But beyond the financial impact, there is something truly special about bringing together our community in times of need. If we each bought a pattern from one of the designers, listed below we can create a powerful message of positivity and support.
Buying physical goods may be difficult or impossible for the shops to fulfill depending on their location on the island of Maui, so be sure to contact them first. But, good news is there are so many other businesses across the Islands you can buy online goods from and support the overall isolated economy of Hawaii. Just think of how much tourism is going to be lost due to these disasters and so many businesses rely on those in person sales.
In times of crisis, creativity can serve as both an escape and a source of comfort. By supporting local artists, you are contributing to the overall recovery efforts in Maui. The wildfires have left a lasting impact on the entire community, and every step taken towards rebuilding and healing is crucial.
How I found the designers…
I was aware of a couple already, but I used the search function on ETSY and entered Hawaii as the location. It wouldn't allow me to narrow the search to Maui specifically but all of the islands are an extremely tight knit local economy. So many people have family members that live across all the islands. I can only imagine that almost all long term residents know someone directly impacted by the devastaing Maui wildfires.
You can use this search filter method, to find endless digital dowload content from local Hawaii artists. I found, using the same method, many graphic designers with beautiful prints ready to download.
Here's some of their links…
Aloha Dreams Co – beautiful hawaii themed graphic posters
Irie Lanai Designs – adorable school posters
List of Crochet and Knitwear Designers from all over Hawaii
I know there's many talented designers that I have missed in my research. Please mention any in the comments!
These talented individuals have poured their creativity into creating unique and stylish patterns that showcase the beauty of the island and its rich cultural heritage.
Crochet and Knit Patterns:
Pink Plumeria Maui – gorgeous crochet and knit patterns for all seasons plus awesome tutorials
Crochet Cuties by Lily – amigurumi happiness!
Jenny Plushies – kawaii stuffed animals
To be honest, it was much harder to find knit designers than crochet. So please help me spotlight more!
Wild Weird Crafts – flowers, tops and all things summer
Nani Pop – amigurumi patterns and hawaii stickers
Crochetcetera – a newer ETSY shop with impressive designs
Madis Crochet Corner – amigurimi patterns from one of my favorite cities, Hilo.
YND Crochet Pattern – the cutest crochet skirts imaginable!
Sentro / Addi Circular Knitting Machine Patterns
Creative Yarn by Fabi – soooo many cool designs
With help from the Ravelry community I found these designers as well…
Makana Socks – top down, knit socks pattern by Lil Brown Girl Knits
North Side Knit Co – gorgeous knit wearables for all ages
Sharkonnay Wine Bottle Bag – so adorable and perfect fir gifting
Hidden Daisy – textured scarves and ear warmers
J Wilson – Maui, based with two patterns. An intricate knit hat and squishy fingerless gloves
Lum – floral, lace hair bun cover
Knotty Handmaid – adorable loveys and amigurimi
Nerakel – textured winterwear
Tricked Out Ewe – hand dyed yarn
Kikukat – chunky knit hat
Tristana Sew – adorable skirt pattern for kids
Hawaii Hooker – felted market bags
Hula Bunny – local angora yarn
Lisa Baker – crochet housewares
Tiger Lily – kimono perfect for summmer
2ndleTweedle – with 47 designs, including knit socks with the big toe divided so you can wear them with flip flops!
Anita Hurlburt – beautiful colorwork socks and mittens
Hook Yarn and Sweater – wearables including a perfect dress!
Nikki Vand De Car – with 141 designs she has everything imaginable, including an extensive collection of knits for newborns
Yarn Yarn Co – hand dyed yarns on ETSY
ENJ Knits – classic wearables
Even Howard – published designer
Gussy Rose – fun bookmark and summer scarf
Holani – crochet twisted headband
I Love Byron – fingerless gloves
Kewpiedoll – Christmas Tree Ornament
Meredith Buck Studio – cute knit gnome hat
Secret Island Tankini Top – lacy and absolutely perfect for summer
MK Carroll – published designer with tons of designers. My fav is the sushi roll pillow!
Crochet Skull Scarf – lacy and full of detail
Rose Glad – Hawaii themed colorwork knit beanies
Shoenicorn – 14 original knit lace shawls to swoon over.
Sky Pilot – with 302 knit patterns, theres literally everything!
The Crafty Author – crochet accessories
Tihiri – grow with me childrens headband.
Aran Cable Top Baby Booties – the name says it all! Besides who doesn't love a baby bootie.
This link, is to Ravelry users who live in Maui. I plan on going and liking projects to send a little love.
All Needles Crafts is a Maui based knitting group. Sending so many prayers to the members and their families.
Louie Fiber Works is a Maui based artist, with a gorgeous gallery full of inspiration in the online gallery.
Uniting the creative community and supporting local artists directly injects much-needed support into the community, especially during these challenging times. As physical goods may be difficult to obtain, engaging in blogs and downloading their patterns is a surefire way to make a positive impact.