How to hang air plants on shower tile or drywall: Damage-Free, Easy DIY
The following post contains affiliate links. By clicking on the links you are supporting my site and allowing me to continue to create free content. I promise, I only share products that I use and love! For more information please see my disclosure page. 
Air Plants are easy to care for and are an excellent way to decorate your home. I'll show you step by step how to hang air plants on your drywall or tile walls with no damage. This easy DIY will give you a Pinterest worthy home.
I am absolutely obsessed with house plants. The last time I counted, there were over 70 and I have shamelessly added more since. I really enjoy buying very small plants and nuturing them until they are big enough for me to propagate so my plants are multiplying frequently!
Air plants love humidity and bright indirect light, so what better place than a bright, sunny bathroom. The problem was figuring out how to mount them without causing any damage to the tile. After several months of brain storming, a solution was born!
Materials
Command Water Proof/Shower Refill Strips
Acrylic disks (for mounting, don't skip this!)
Air Knots (air plant holders)
Air Plants
Hot Glue Gun (my favorite)
Patience
Don't skip mounting the holder!
My first attempt to make this project work failed miserably. I tried attaching the Air Knot directly with only a comand strip and there was just not enough surface area on the Air Knot for it to be secure. I needed a larger surface area to evenly distribute the weight across, so I brain stormed for literal weeks. I was determined to find something around the house, instead of having to purchase something new. It needed to be large enough to cover the entire command strip but also look nice.
Where to buy Air Plants
This is the company that I have purchased all of my Air Plants from. They are local to me and ship high quality plants very quickly. Expect the best from them, our warm florida humidity is an excellent environment for growing air plants. You can find Air Plant Supply Co's products on Amazon, ETSY and directly from their website.
Why Air Knots?
They may seem small and underwhelming for the price but they are incomparable to any other airplant holder. I love the outward facing look and appreciating the beauty of the top of the plant. I recently corcheted an air plant wall hanging and used a wooden ring for the plant to sit in. I soon learned that not all of my airplants look good hanging that way.
For this project being in the shower, I also knew I didn't want to use any yarn or wood that would get wet and possibly not dry out.
Patience
Patience is a must for this project from start to finish. Don't skip any steps or rush the project. You want the command strips to have adequete amount of time to "cure" and stick really well. Also, don't put them up and immediately take a shower.
Another aspect of patience is for the plants. I have had some air plants hanging (with Air Knots) by my front door for over a year now. After a little while of them being hung up, the air plants will open up much more drastically and look fuller. Giving that pinterest worthy look.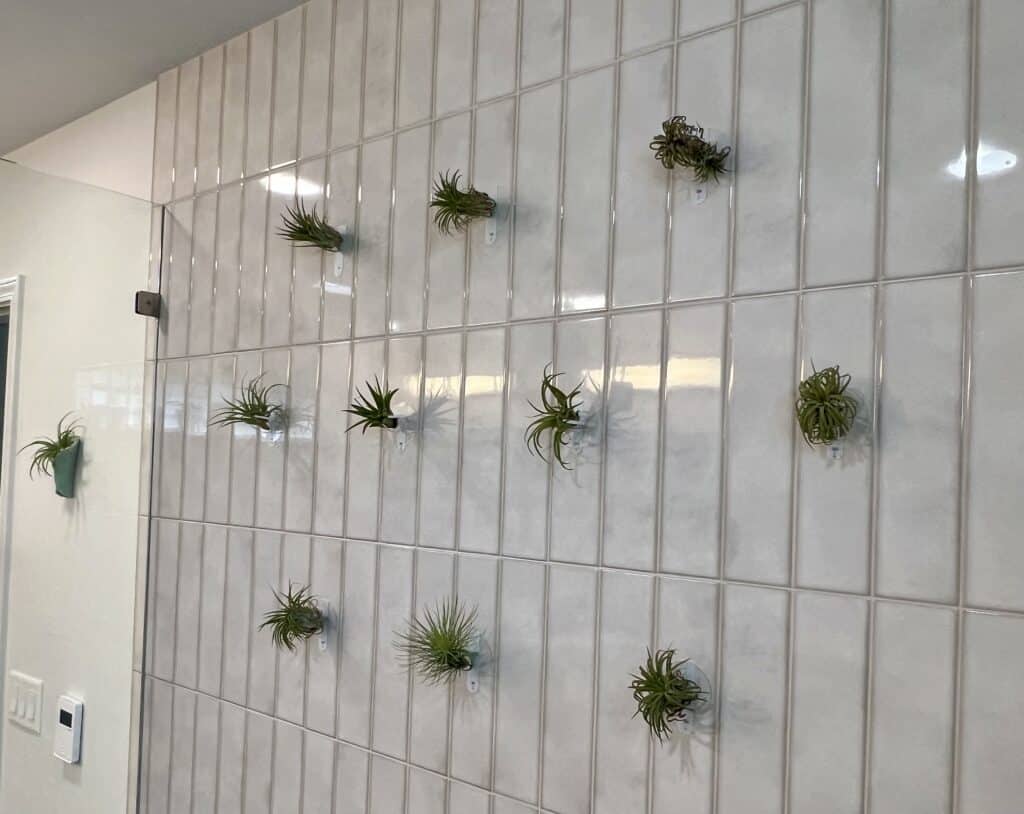 What if you want to hang it on drywall?
You can do this exact same project and just use standard command strips! If you want to get a little adventurous, you could even mount/glue the holder to a small tile or round wooden disk.
The Steps:
Gather your supplies.
Pre-bend your Air Knot's to the desired shape, before gluing.
Hot glue your Air Knot to your mounting surface (acrylic disc in my case).
Add Command Strip to the back, making sure to get the entire strip on.
Clean the tile wall you're going to attach it to and allow it to dry fully.
Attach your mount with adequate pressure and wait 24 hours for it to cure fully before adding your air plants.
Add your air plants
Enjoy!