The Cooper Baby Blanket using Bobble Chevron Tunisian Crochet
The following post contains affiliate links. By clicking on the links you are supporting my site and allowing me to continue to create free content. I promise, I only share products that I use and love! For more information please see my disclosure page.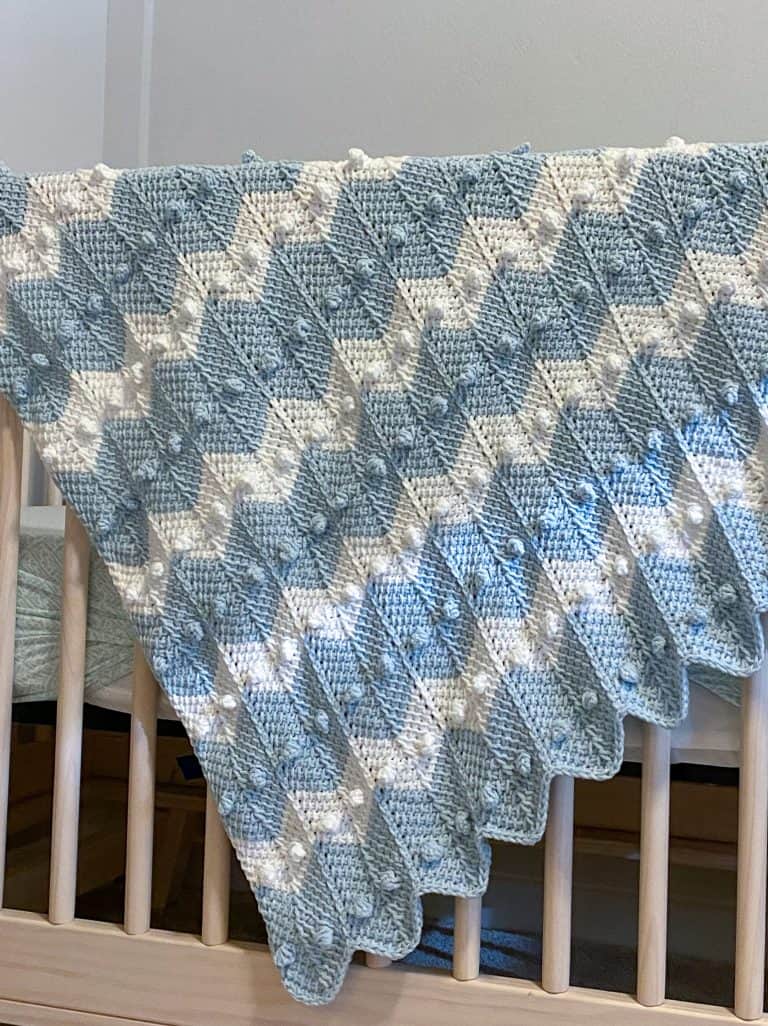 Learn how to crochet a Bobble Chevron baby blanket using Tunisian Crochet. If you are comfortable with basic Tunisian stitches you can easily make this blanket! Video Tutorial included. Make this blanket in any size with a simple formula. Using Lion Brand's Feels like Butta yarn.
This blanket was so much fun to make! The bobbles were incredibly addicting and there's just something about completing a return pass in Tunisian Crochet that gets you completely hooked. If you are comfortable with the Tunisian simple stitch and traditional crochet bobbles then you will have no problem with making this blanket!
Let's be friends on YouTube for more free patterns!
The Inspiration
My inspiration for this blanket is directly from my bobble chevron baby blanket that I designed while pregnant with my daughter. When I found out my friend was having a baby boy, I knew I wanted to make something similar but using my latest obsession Tunisian Crochet.
The Yarn
For the yarn, I knew that I wanted to use Lion Brand's Feels Like Butta. I highly recommend this yarn for any project for a baby. It is so soft and incredibly durable for washing and of course, the stitch definition is outstanding! The color options for Feels Like Butta are gorgeous pastels perfect baby. And the name does not lie, it truly feels like butta. It has a velvety feel of chenille but the chain construction makes it incredibly durable. I also really appreciate how readily available this yarn is. All the big box stores sell it, I've even seen it at Walmart lately. And of course the online king, Amazon has convenient multi packs of every color. LoveCrafts is another great site to buy from, especially when they are running a sale.
For my blanket, I chose to use Ice and White. But there are endless possibilities for color options!
You can absolutely use any aran weight yarn you'd like for this blanket. I do highly recommend checking out Yarn Sub for really great tips and advice for substituting yarn. Warning, Yarn Sub can become addicting… I find myself on there all the time down the wormhole looking up yarns used in other designers' patterns.
To border or not to border…
The best part of crocheting is the infinite room for creativity and making your project your own. I love how clean the edges are in Tunisian Crochet so to me a border is not necessary. But if you'd like to add a border it'd look great! The bobble border from my Bobble Chevron blanket would be super sweet. I have a video tutorial on my YouTube channel as well.
You could also add tassels. I'm personally not a big fan of tassels on baby blankets. I made one for my son once and he quickly figured out how to dismantle it. Also, let's face it babies are messy and your blanket will be machine washed frequently. In my experience, the tassels are never as fluffy and pretty after being machine washed.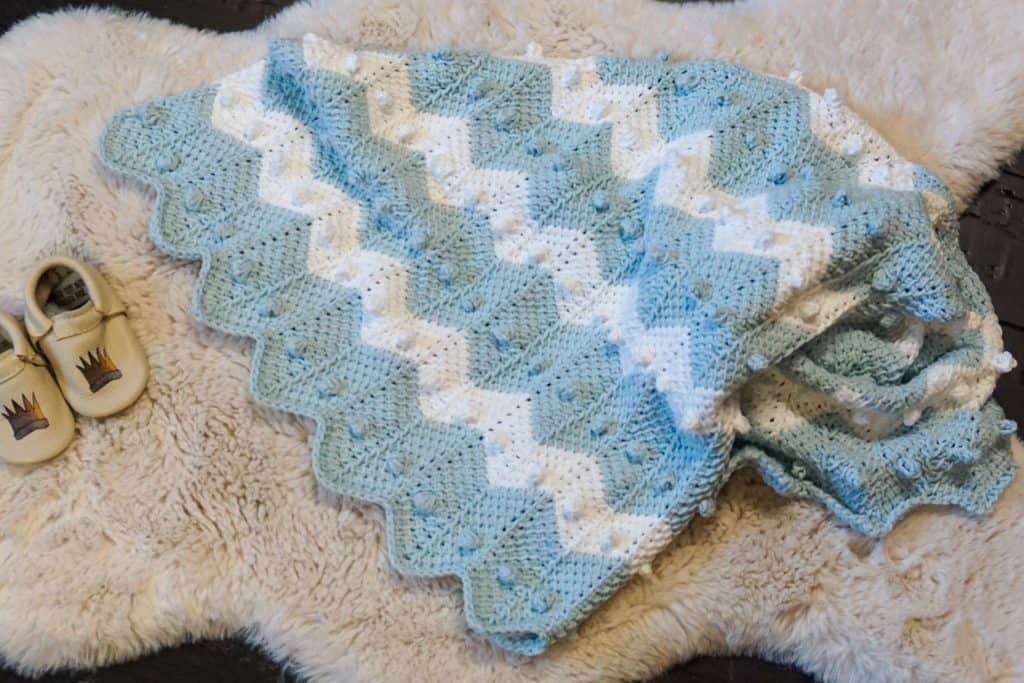 Changing the Size
You can also change the size of this blanket. Change the width by making your initial chain in multiples of 14 + 1. Then change the length by adding or removing sections! Above is a list of common blanket sizes.
Purchase the ad-free pattern in my ETSY shop!
Finished Size: 30" x 36"
Supplies:
6.5mm Tunisian Crochet Hook + cord (I have this set and LOVE it!)
Scissors (Best travel scissors around!)
Darning Needle
Abbreviations:
Chain (ch)
Tunisian Simple Stitch (tss)
Tunisian Simple Stitch 3 Together (tss3tog)
Bobble (bo)
Make 1 (M1)
Yarn Over (YO)
Pattern Notes:
I have a video tutorial on YouTube making a sample of this blanket where I show all of the different stitches/techniques used.
I use a size 6.5mm tunisian crochet hook. I like using a larger sized hook to help prevent curling and I personally have a really tight tension. I recommend making the same swatch that I made in my video if you are concerned about hook size.
Every row in Tunisian crochet is worked in 2 steps: Forward Pass (FwP): working loops onto your hook and Return Pass (RetP): working loops off your hook.
Stitches Used:
Tunisian Simple Stitch (tss): insert hook under the front vertical bar, yarn over and draw up a loop.
Tunisian Simple Stitch 3 Together (Tss3tog): insert hook under 3 vertical bars, yarn over and draw up a loop.
Make 1 (M1): This is used for increasing number of stitches, to make up for the tss3tog. Insert hook under top vertical bars (where you would do a normal crochet stitch), yo and draw up a loop.
Bobble (bo):
There are two methods to making a bobble, either by inserting your hook tunisian knit (tks) style or tunisian simple stitch (tss) style. I like doing tunisian simple stitch style, it makes the bobble truly pop out where as tks makes it broader and less 3d. My video tutorial shows how to make both.
To make the Bobble: *yo, insert hook into the stitch (either tks or tss), draw up a loop, yo and draw through 2 loops* repeat 4 more times in the same stitch, yo draw though all 5 loops on hook.
Final Stitch of each row: This technique gives makes your edge nice and clean. Turn your work to the side and insert hook under the two vertical side bars, yo draw up a loop.
Changing Colors: for the final 2 loops of the return pass, yo using the new color. Your final loop on your hook should be the new color. Cut the old color and I like to tie with the new color tail for extra security. Weave in your tails. https://youtu.be/2D_KqiG1cOs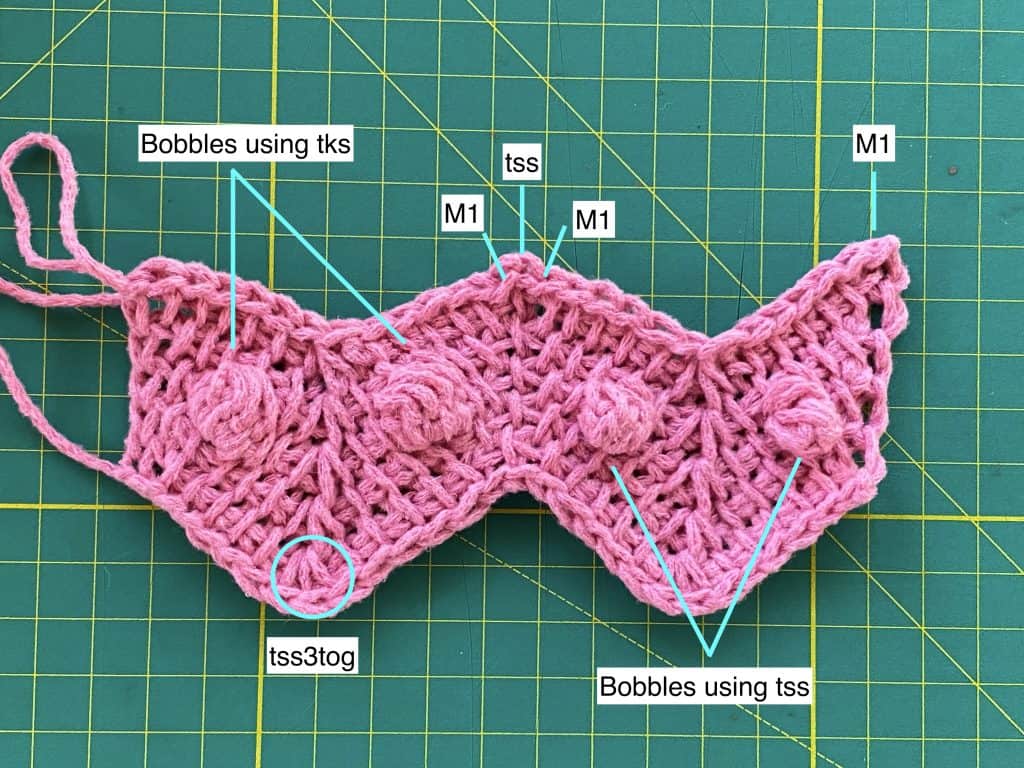 Add-Free version available with my ETSY shop with included printable gift tags!
Instructions:
The blanket is made up of a simple formula based on each color change section. Below are instructions for the two row types.
Instructions are for Forward Pass. Return Pass will be the same for each row
Return Pass: YO, pull through 1 loop (chaining 1), *YO, pull through 2 loops* repeat until 1 loop remains on hook.
Non Bobble Row (labeled as "Row" below): *M1, tss x 5, tss3tog, tss x 5, M1, tss* repeat ending row with final stitch (instructions above).
Bobble Row: *M1, tss x 2, bo, tss x 2, tss3tog, tss x 2, bo, tss x 2, M1, tss* repeat ending with final stitch.
Row 1 / Foundation Row: Ch 100 draw up a loop in the back bump of each stitch, starting in 2nd ch from hook and across (100)
Formula:
MC: 4 rows, bobble row, 4 rows (9 rows total)
C2: 2 rows, bobble row, 2 rows (5 rows total)
6 MC sections, 5 C2 sections with the final section being MC.
Final Row: Slip Stitch Bind Off. This gives a clean finish. Work row as usual but draw through both loops on the hook each time, leaving no stitches left on your hook. Cut yarn and weave in ends once row is complete. (See Video)
I recommend blocking your blanket when complete, especially if you have any curling on the edges. I like to wet block mine with a rinse free wool wash and then let it dry pinned to blocking mats underneath a ceiling fan. That way it's clean and ready to gift! The yarn is machine washable as well.