How to Crochet the Bobble Chevron Baby Blanket: 2023 Update
The following post contains affiliate links. By clicking on the links you are supporting my site and allowing me to continue to create free content. I promise, I only share products that I use and love! For more information please see my disclosure page. 
2023 Update: the pattern has been updated and tech edited.
It's a Surprise!!! Crochet the perfect gender-neutral bobble chevron baby blanket with this free pattern. You'll quickly memorize the steps of this easy pattern and have a complete blanket in no time! As a bonus, I've created a video tutorial and instructions to resize the blanket.
I am currently pregnant with our second child and this time we are letting the gender be a surprise! I know in the day and age of elaborate gender reveal parties, it's less common to wait but all we care about is healthy! When it came to the coveted baby blanket, you can say I definitely overthought the design process. I came up with this design after much contemplation and many practice swatches.
At first, I was a little discouraged about how I could make a baby blanket in gender-neutral colors. So, I started down the rabbit hole of Pinterest and kept searching until I found the nursery color palette of my dreams: white, pale yellow, grey, and mint.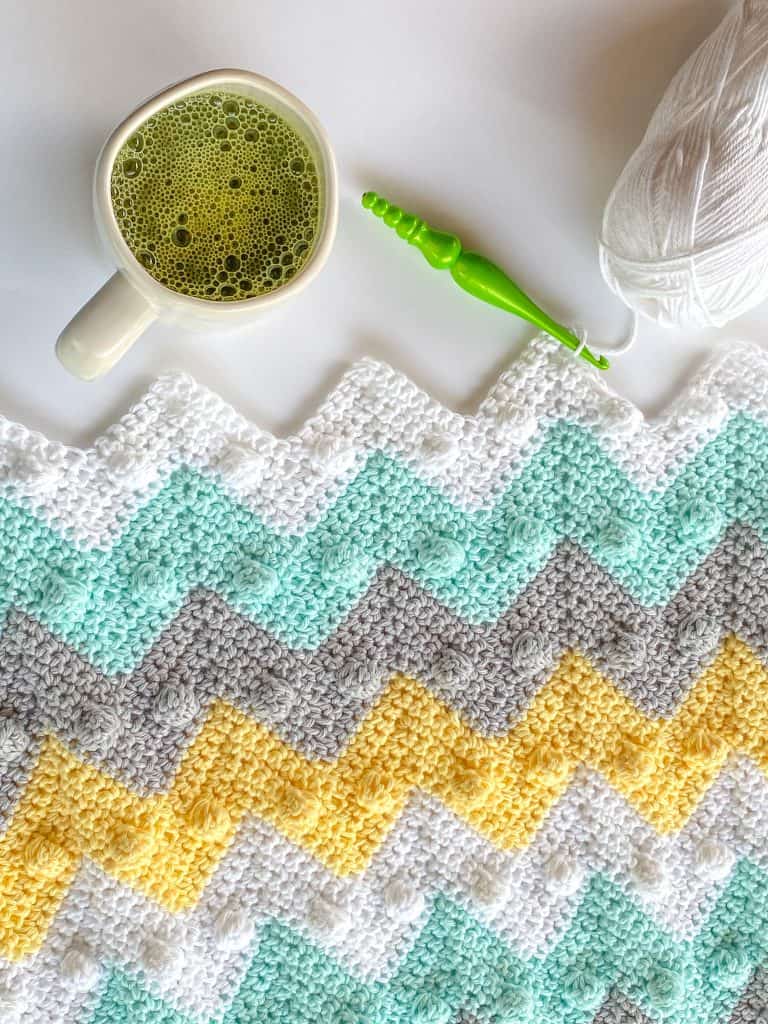 What's not to love about this blanket! The gorgeous texture provided by the chevrons and bobbles create a timeless look. If you are looking for a baby blanket as a gift, this pattern will not only please parents but also the growing curiosity of baby. The blanket is perfect for tummy time providing endless stimulation of the colors, bobble texture and fun bobble border. Not to mention the yarn is extremely durable and will stand the test of time as a precious heirloom.
Save this Pattern to your Ravelry Queue
In addition, my low cost ETSY pattern purchase includes a gorgeous gift giving tag with care instructions on washing the blanket.
Once you have completed a few rows, you'll have the pattern memorized and fly through this blanket! Making it a really great couch project to work on while watching your favorite tv show or movie. I personally was surprised by how quickly I completed the blanket!
The skill level of this blanket would be easy and can definitely be accomplished by any eager beginner. I made a video tutorial showing how to make a basic swatch of the blanket along with the bobble border. Personally, I am a visual learner and actually taught myself how to crochet by watching YouTube videos! Be sure to check it out on YouTube.
The Yarn
I tried several different yarns before finally selecting I Love this Cotton from Hobby Lobby. Traditional baby yarns just didn't give my bobbles the dramatic pop and texture I was looking for. And then those yarns that didn't offer the exact color palette I had envisioned. Whether the gender is a surprise or not, I Love this Cotton offers so many color options you can easily substitute to perfectly match any nursery color palette.
If you have checked out some of my other patterns, you already know that I kinda have a thing for this yarn. I love the softness, how well it forms to texture, the colors available and most importantly the durability. I usually don't machine wash my finished work but I have before just to test the toughness of this yarn and it doesn't disappoint! A lot of my projects end up being gifts for family or friends so I want to use a yarn that I am confident will hold up to the conditions and use of anyone's home. As a bonus, this yarn is a great value during Hobby Lobby's rotational 30% off all yarn sales.
A different yarn option…
I know that I always love having options for yarns to use. But nothing is worse than substituting yarn and the project not turning out correctly. A really great option is Paintbox Yarns Recycled Cotton Worsted. According to Yarn Sub it's a 97% match and you can easily order it online. Plus there's sooo many fun color options!
Be sure to save this pattern on Pinterest to easily access later!
Check out the inexpensive ad-free version of my pattern on ETSY which includes:

Printer-friendly PDF pattern
Printable gift tags with washing instructions
Stitch Diagram

Pin this pattern for later
Add to your Ravelry queue 
"It's a… Surprise!" Gender Neutral Crochet Baby Blanket
Crochet this gorgeous baby blanket as a timeless heirloom any expecting mom will love! The bobble chevron pattern with fun tassel border provides gorgeous texture and stimulation for growing baby.
I Love This Cotton yarn is a Hobby Lobby product but is also available on Amazon in case your local store does not have enough of what you need or you don't live near a Hobby Lobby. I included the Amazon links below. Also, feel free to check out other yarn substitutes from Yarn Sub.
I loved this blanket so much that I made the same one using Tunisian Crochet for my friend's baby. Check out the Cooper Blanket for the free pattern. I have a video tutorial for this one as well!
Materials:
I Love this Cotton Yarn in
Size: 30"w x 36"h (standard stroller size)
Gauge: 4" x 4" = 17st x 11 rows
Skill Level: Level 2/Easy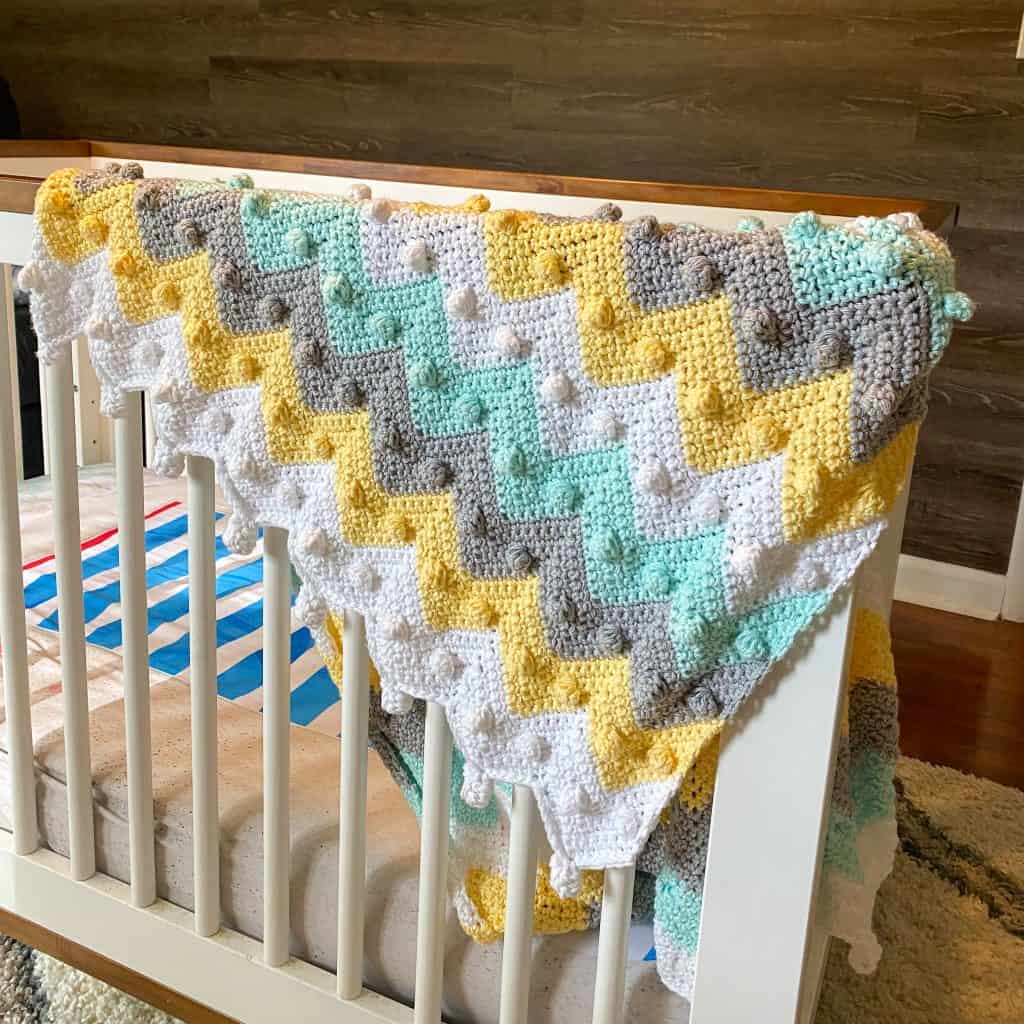 Pattern Notes
The pattern is written in US terms.
The blanket is shown in standard stroller size but can easily be resized by adjusting your foundation chain in multiples of 16 + 2.

16 stitches from one peak to the next.
plus 2 for the foundation chain.

Check out my tutorial on YouTube for additional help.
Bobble Instructions:

work 5 treble crochets (up to final yarn over) in the same stitch.
yarn over and pull through all 6 loops on your hook

For the color change, I do the following after working the final stitch of the row:

yarn over with the new color and pull through
then cut the old color and tie the ends of the two colors together (making it extra sturdy)
then I proceed to crochet over those ends making them practically invisible!
Abbreviations
ch – Chain
sc – Single Crochet
sk – Skip Stitch
st(s) – Stitch(es)
bobble – Bobble worked with 5 treble crochets cc – Change color
C1 – Color 1 (white)
C2 – Color 2 (buttercup)
C3 – Color 3 (dove grey)
C4 – Color 4 (mint)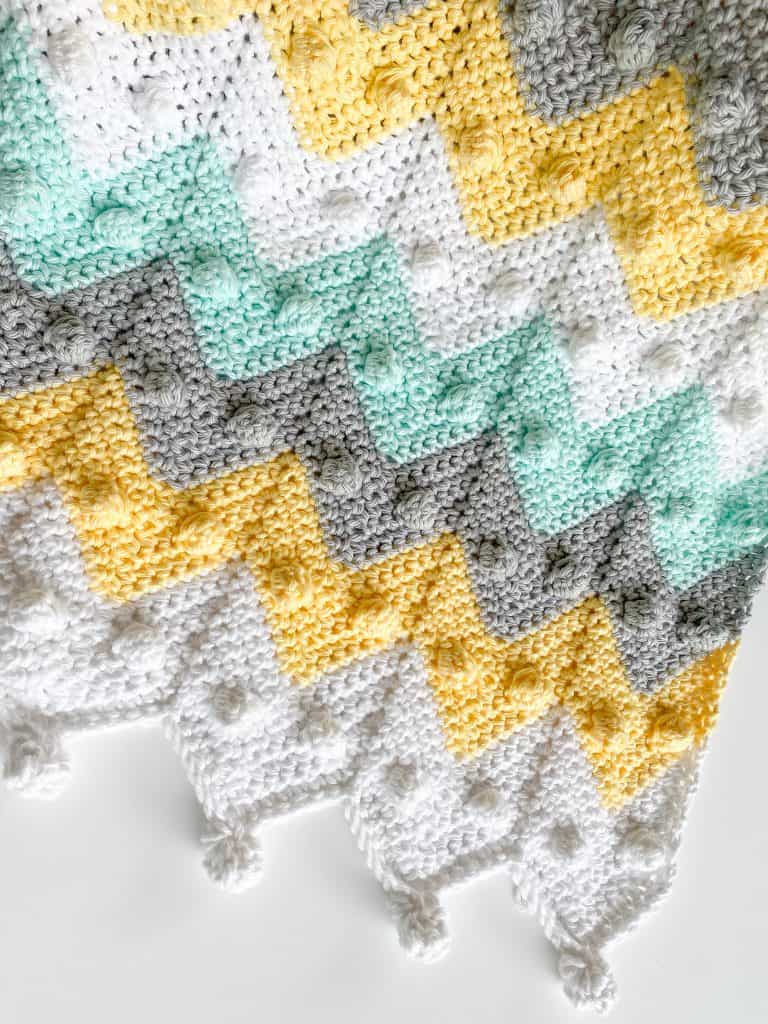 Instructions:
Chain 130
Row 1: 2 sc in 2nd ch from hook, *1 sc in next 7 ch, sk next ch, 1 sc in next 7 ch, 3 sc in next ch;* repeat from * to * ending with 2 sc in last ch, turn. (137)
Rows 2 & 3: Ch 1, 2 sc in first sc, *1 sc in next 7 sc, sk next 2 sc, 1 sc in next 7 sc, 3 sc in next sc;* repeat from * to * ending with 2 sc in last sc, turn. (137)
Row 4 (ws): Ch 1, 2 sc in first sc, *1 sc in next 3 sc, bobble, 1 sc in next 3 sc, sk next 2 sc, 1 sc in next 3 sc, bobble, 1 sc in next 3 sc, 3 sc in next sc;* repeat from * to * ending with 2 sc in last sc, turn. (137)
Rows 5-7: Repeat row 2
Rows 8-13: change color to C2 and repeat rows 2-7.
Rows 14-19: With C3
Rows 20-25: With C4
Rows 26-31: With C1
Rows 32-37: With C2
Rows 38-43: With C3
Rows 44-49: With C4
Rows 50-55: With C1
Rows 56-61: With C2
Rows 62-67: With C3
Rows 68-73: With C4
Rows 74-79: With C1
Rows 80-85: With C2
Rows 86-91: With C3
Rows 92-97: With C4
Rows 98-103: With C1
Cut yarn, weave in ends and move on to the border.
Border Instructions:
Video instructions are very helpful!
We will only be working the border on the bottom and top ends of the blanket (not along the sides).
You will be using the same color of yarn as the coordinating row and holding two strands of yarn at the same time.
You basically will be working a bobble in each point and a slip stitch in the other stitches (you'll notice the side last worked that it begins and ends with a point and the other side begins and ends the opposite so keep that in mind).
Bobble will be worked in the same stitch as your last slip stitch.
Starting on the side last worked, at the point, attach yarn to the last stitch worked then:
● *ch 3, bobble in the first chain of ch-3 st, sl st in the next 7 sts, sk next 2 stitches (bottom), sl st in next 8 stitches;* repeat from * to * until the end.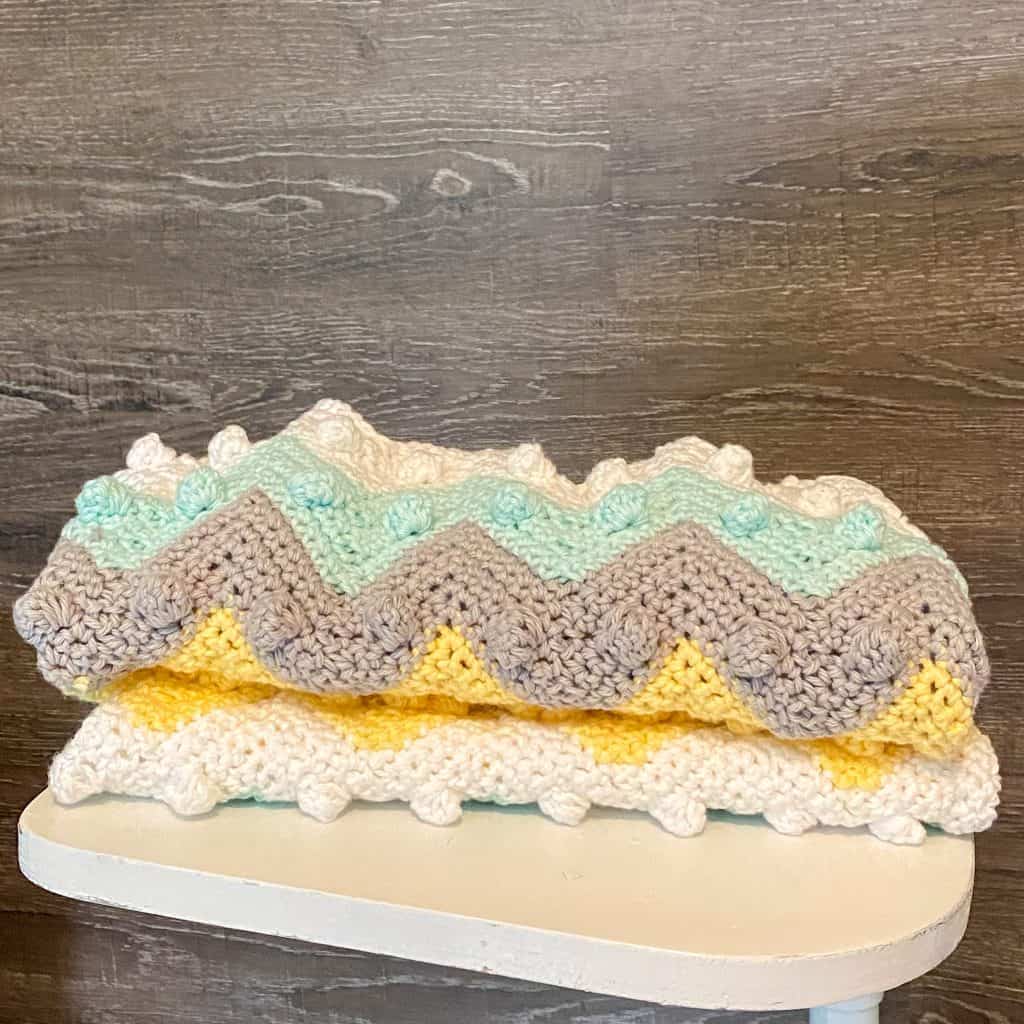 Congratulations you have completed your blanket!
I would love to see your finished project and the colors you chose to use. Be sure to add photos to Ravelry or tag me on Instagram.
If you like this pattern, be sure to check out my other patterns: