Looking for a stylish eco-friendly alternative to the paper coffee sleeve? Look no further than my Tunisian Knit Bow Coffee Sleeve pattern. This FREE easy crochet pattern is perfect for the eager beginner wanting to try Tunisian Crochet. Plus it uses a regular 10mm crochet hook and only 1/2 an ounce of Bernat Maker Home Dec Yarn. Fits any size coffee cup (from 8oz to 20oz).
The following post contains affiliate links. By clicking on the links you are supporting my site and allowing me to continue to create free content. I promise, I only share products that I use and love! For more information please see my disclosure page.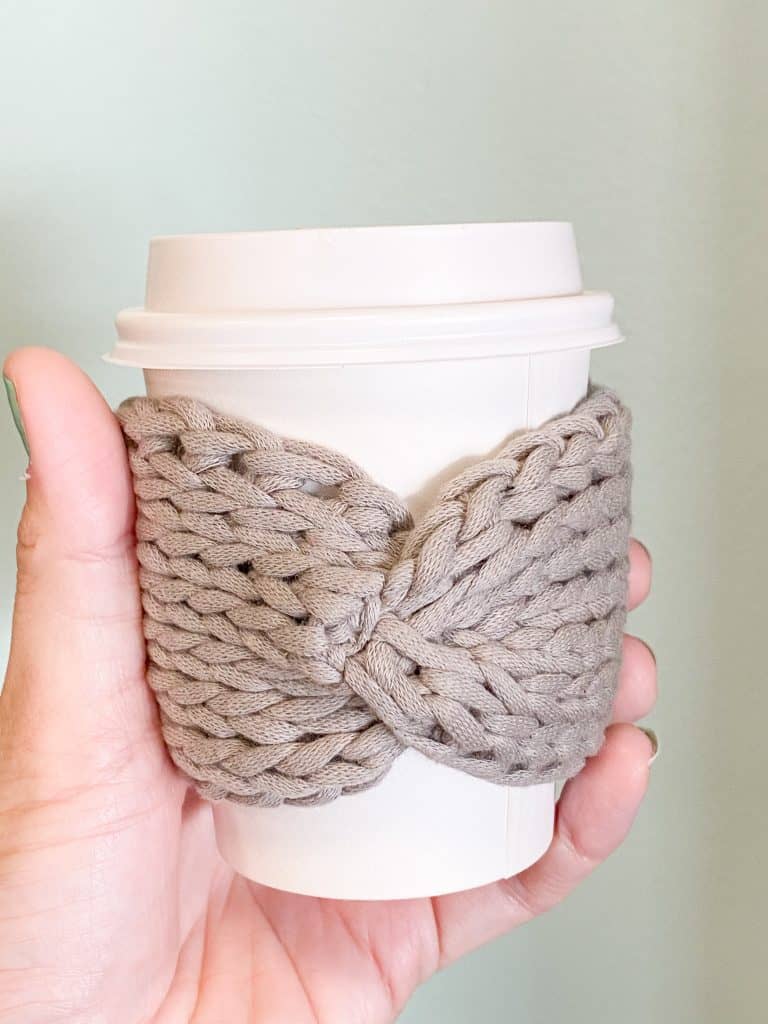 You may have noticed in recent years that a lot of coffee shops are eliminating or making you have to ask for a sleeve due to the environmental impact. Feeling guilty asking for one at my favorite local coffee shop, I knew I could come up with a stylish reusable crochet sleeve of my own!
According to Substainable Brands:
"coffee sleeves are rarely — if ever — disposed of properly, with 40 million sleeves finding their way into landfill every day in the United States. This constitutes a considerable amount of waste — 2.8 billion pounds of paper and cardboard waste each year to be exact."

– Sustainable Brands
Of course, the single-use coffee cup is making a huge impact on our growing trash problem as well. But if we all take baby steps and make easy daily transitions to reusable products we can make a huge difference!
For additional help, I have a YouTube video showing everything from the Tunisian Knit Stitch to assembly.
The best part of this pattern is that absolutely no Tunisian Crochet experience or special hooks are required! I have included step by step photo instructions in addition to the video support to make this project easy for all skill levels!
When I first started crocheting, I fell head over heels for the gorgeous knit appearance of the Tunisian Knit Stitch. Unfortunately, the nature of the stitch produces a very thick end product that is not as suitable for for many projects. But in the case of my coffee sleeve the thickness of the stitch provides exactly what we need to produce an insulating and functional coffee sleeve.
I chose to use Bernat Maker Home Dec Yarn because what's not to love about it! The stitch definition is second to none with this yarn and it provides a durable and functional finish, perfect for everyday use. I know this yarn can be next to impossible to find in stores but over the years, I have had luck finding great deals on Amazon and eBay. Sometimes the best price might not be my ideal color but I have found great uses for all of them!
Now for crochet hooks, you need a 10mm hook with a straight shaft in order to maintain consistent stitch height. I found this one on Amazon for a ridiculously cheap price and it worked out perfectly!
Be sure to Pin this project for later!
Or add to your Ravelry queue
Also, check out the low cost add free pattern PDF on ETSY
Looking for a printer-friendly version of the pattern? Check out my ad-free ETSY listing that includes a bonus printable coffee insert. Perfect for gifting or reselling. Disclaimer: you may sell your finished product but may not reproduce this pattern or use my photos in any way. All that I ask is if you are selling online that you link back to this blog post. 🙂
Finished Size: measured laying flat and fully assembled.
4" (w) x 2.5" (h) : 0.5 oz
Gauge: 4" wide = 13 rows and 2.5" height = 8 stitches
Abbreviations
Chain (ch)
Forward Pass (FwP)
Return Pass (RetP)
Yarn Over (YO)
Tunisian Knit Stitch (tks)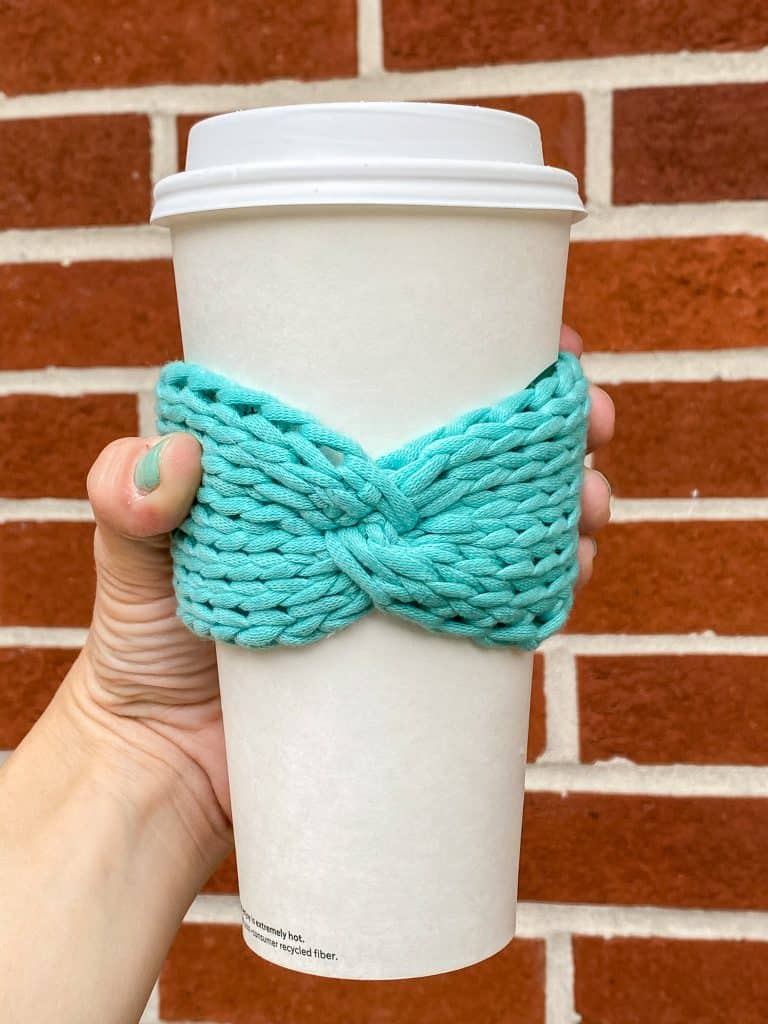 Supplies
Notes
For additional help, I have a YouTube video showing everything from the Tunisian Knit Stitch to assembly. https://youtu.be/fBf-moi8B3s
For Tunisian crochet each row consists of a forward pass (FwP) and a return pass (RetP).
Try to keep consistent tension across your work. I do like to have looser tension for the final row to make assembly a little easier.
At the beginning of each row, the 1st loop on hook counts as your first stitch.
If you plan to use your sleeve primarily for larger sized cups (i.e. Starbucks Venti) you may want to start with a Chain 10 to provide a taller sleeve (3").
Stitch Instructions:
Photo tutorial below.
Tunisian Knit Stitch (tks) Forward Pass (FwP): insert hook in between the vertical bars of each stitch from the previous row.
Return Pass (RetP): will be the same for each row: Chain 1 by yarning over (YO) and pulling through 1 loop then *YO, pull through 2 loops* repeat until 1 loop remains on hook.
Instructions:
Below Instructions are for the Forward Pass, Return Pass will be the same for each row (instructions above).
Row 1: Ch 8, turn ch over, starting in 2nd ch from hook, draw up a loop in the back bump of each ch (8) (Photo A shows Back Bump) (Photo B shows loops drawn up on hook)
Rows 2 – 28: tks across until final stitch then insert hook underneath both loops on the side of the stitch (8) (Photo C shows where to insert hook for tks) (Photos D & E show where to insert hook for final stitch)
After Row 28, cut yarn with 5" tail and tie off project.
Your project should be a flat panel that measures 8.5" (w) x 2.5" (h).
Assembling Your Coffee Sleeve:
Assembly starts at the 6 minute mark of the video for extra reference.
You will flip your panel over and assembling it wrong side out.
Fold the two ends in half (towards the right side).
Then insert the two sides into each other. (Photo A)
Use a stitch marker(s) to hold the two pieces together. (Photo B)
Using your needle, stitch together the pieces and be sure to pick up all 4 layers. (Photo C)
After stitching together, I like to turn back to right side out to make sure I picked up all stitches before tying off.
After tying off, weave tail into seam to secure and cut loose ends.
Congratulations, you're done! I would love to see your finished work and the colors you used!
Instagram: @kelseyjanedesigns
Ravelry:Kelsey Jane Designs