Looking for color inspiration for your next knit or crochet project? Check out these color palettes that are inspired by United States National Parks.
Be sure to save this page on Pinterest for later as I will be frequently updating this post with more color palettes.
The following post contains affiliate links. By clicking on the links you are supporting my site and allowing me to continue to create free content. I promise, I only share products that I use and love! For more information please see my disclosure page.
Golden Gate National Recreation Area
Primarily known for the golden hues of the Golden Gate Bridge, Golden Gate National Recreation Area has a lot more to offer! A biologically diverse park that supports 19 different ecosystems and 2,000 plant and animal species. Home to many more attractions such as Muir Woods National Monument, Alcatraz and the Presidio of San Franscisco.
Caron Simply Soft yarns from left to right:
Light Country Blue
Robin's Egg
Harvest Red
Pumpkin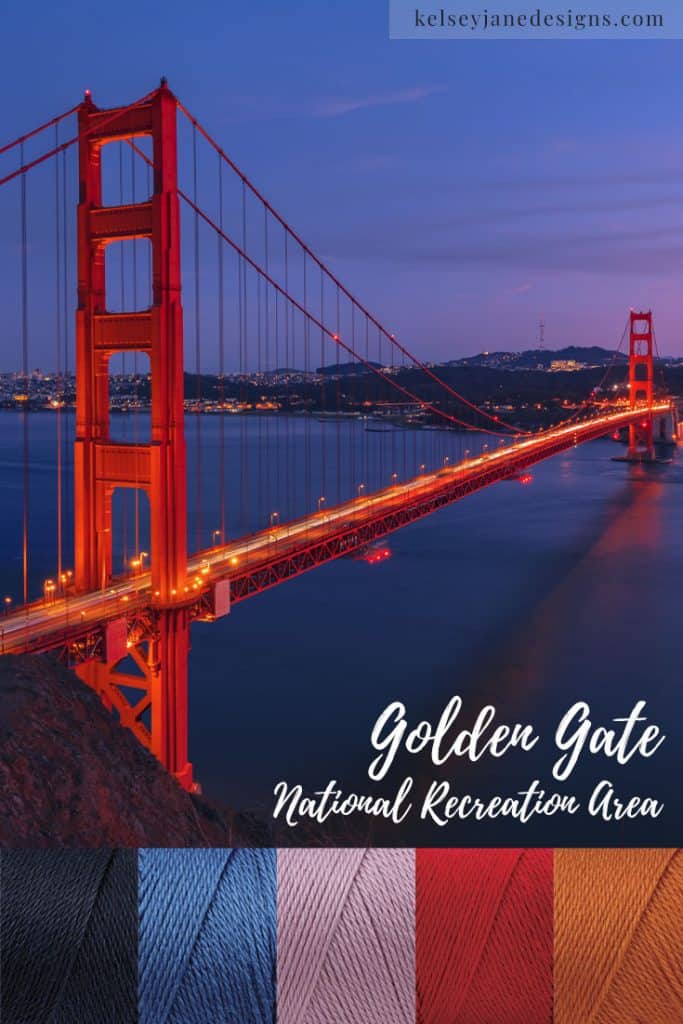 Caron Simply Soft yarns from left to right:
Dark Country Blue
Royal Blue
Blackberry
Red
Pumpkin
Rocky Mountain National Park
Rocky Mountain National Park encompasses 415 miles of gorgeous Colorado terrain and is the home to some of the highest mountains in the continental united states. Easy to tour the park on the Trail Ridge Road, you'll find gorgeous landscapes that drastically change from winter to summer. No trip to the park is complete without a hike where you'll likely encounter various wildlife. The one thing I've learned from visiting the parks is that the wildlife has little to no fear of visitors.
Check out these Paintbox Yarn colors for your next project inspired by Rocky Mountain National Park:
Misty Grey
Washed Teal
Slate Green
Lime Green
Grass Green
For the winter tones of Rocky Mountain National Park, we have Caron Simply Soft in the following colors from left to right:
White
Feather Grey
Light Country Blue
Country Blue
Jupiter
Hawai'i Volcanoes National Park
When you think of the Hawaiian Islands odd are you think of Oahu or Maui with their gorgeous white beaches and sky scrappers galore. But the largest of the islands, Hawai'i (aka The Big Island) offers some of those most diverse and spectacular geological features. One of which are the active volcanoes located in Hawai'i Volcanoes National Park. The active lava flow and dramatic volcanic landscape offers visitors a direct look at how the Hawaiian Islands were formed.
My husband and I visited the park while on our honeymoon and it does not disappoint. Visitors can go on a vigurous hike over hardened lava fields to view the spectacular lava ocean entry point and see the island growing in size right before your eyes. In addition, there is the Kilauea volcano, one of the world's most active volcanoes is very easy to view from many different points. We stayed at the historic Volcano House and I can not recommend it enough. Both the lodging and the restaurant offer unparalleled views of Kilauea. And you really haven't seen Kilauea until after dark when the colors are absolutely spectacular.
The spectacular colors of Kilauea are simply mesmerizing. Check out these Paintbox Yarns colors (from left to right):
Granite Grey
Dolphin Blue
Blood Orange
Peach Orange
Bubblegum Pink
The above photo is of the lava ocean entry at Volcanoes National Park. Right before your eyes you can watch land be formed and the island grow in size. The yarns are Caron Simply Soft and the following (from left to right):
Charcoal Heather
Royal Blue
Robbins Egg
Soft Green
White
Great Smoky Mountains National Park
Straddling the border of North Carolina and Tennessee lies the Great Smoky Mountains National Park. These ancient mountains are home to a vast variety of plant and animal life. The Great Smoky Mountains are the most visited of the 62 national parks. With an astounding 12.5 million visitors in 2019. The colors of the landscape change quite drastically throughout the year. With gorgeous orange and reds of fall to the bright greens and colorful flowers of spring. No matter what time of year you visit you'll be sure to find color inspiration against the backdrop of the foggy mountains.
The inspiring colors pictured above are from Paintbox Yarns Simply DK. They are as follows from the top down:
Melon Sorbet
Lime Green
Slate Green
Dolphin Blue
Misty Grey
The above photo features Caron Simply Soft Yarn with the following colors from top to bottom:
Chartreuse
Pistachio
Jupiter
Light Country Blue
Feather Grey
Arches National Park
Arches National Park, located in Moab Utah is known for over 2,000 arches and its incredible landscape of contrasting colors. The incredible texture of the rock formations provides excellent inspiration for a wide variety of knit and crochet stitches. Big skies provide a gorgeous backdrop for both day and night time photography.
Gorgeous rock formations and big skies inspired this color palette. Given the beauty of night time photography in the park, Midnight Blue, has a well deserved place in this color palette.
Light Caramel (top left)
Melon Sorbet (top center)
Blood Orange (top right)
Stormy Grey (bottom left)
Marine Blue (bottom center)
Midnight Blue (bottom right)
If Arches wasn't beautiful enough just add delicate layers of snow in the winter time. The subtle sheen of caron simply soft works beautifully on your favorite textured knit or crochet stitch.
Off White (top left)
Pumpkin (top center)
Neon Orange (top right)
Soft Blue (bottom left)
Light Country Blue (bottom center)
Dark Country Blue (bottom right)
Grand Canyon National Park
For our first national park we will start with the Grand Canyon National Park. Located in Arizona, this breath taking canyon dives 1 mile deep and encompasses 277 miles of the majestic Colorado River. Known for adventurous below the rim hikes, breath taking rim views and even white water rapid trips. In 2019, the Grand Canyon received 5.97 million visitors making it a well enjoyed by visitors from around the world.
Depending upon the time of day you visit the canyon colors can look completely different. The vast views of millions of years of geological layers can often appear muted and subtle.
The above colors are the following from Paintbox Yarns Cotton DK:
Soft Fudge (bottom right)
Vintage Pink (bottom center)
Melon Sorbet (bottom left)
Pistachio Green (top left)
Stormy Grey (top center)
Washed Teal (top right)
For a more bold color options from Caron Simply Soft:
Autumn Red (top left)
Persimmon (top middle)
Strawberry (top right)
Woodland Heather (bottom left)
Feather Grey (bottom middle)
Robins Egg (bottom right)
Be sure to save this page to Pinterest as I will be adding more color palettes.
I'd also love to see your work inspired by these palettes on Instagram!