The Best and Worst Yarns for your Addi or Sentro Knitting Machines: Video Tutorial + Pattern Links
The following post contains affiliate links. By clicking on the links you are supporting my site and allowing me to continue to create free content. I promise, I only share products that I use and love! For more information please see my disclosure page. 
Recently get a Sentro or Addi knitting machine and wondering what yarns to use? When I first got my machine I looked all over the internet to find guidance on what the best and worst yarns are to use and ended up figuring out on my own via trial and error. I know some traditionalist frown upon knitting machines but I personally disagree. It's not just pushing a button and viola you have a hat. It's a lot of manual hand cranking. I really enjoy making hats to donate to the homeless for Christmas. My Addi allows me to make a huge impact and donate many more hats than I could previously.
Be sure to follow me on Pinterest and check out my Board that is completely dedicated to yarns and patterns that work well in the Addi knitting machine.
It is really important to use the correct yarn on your machine. The machine's components are all plastic and if you're using the wrong yarn you can break teeth or worse a major component that's not easy to replace. Some yarns constantly split or drop stitches which can harm the appearance of your project and just be super annoying.
Looking for patterns? Make sure you stick around to the end of this post where I have a few really great patterns listed for your Addi.
If you are just getting started with your Addi, I highly recommend while you are learning to use yarns that are tried and true winners. That way you can focus on learning and not let a terrible yarn defeat you in the process. Once you have a few projects under your belt then you can get more creative with different yarns and other fun techniques like color changing!
General guidelines for yarns that work well are:
Size 4 worsted yarns
synthetic fibers
low pile yarns
The reason size 4 worsted yarns work best in my experience is that it creates a much tighter stitch that gives you that classic knit look. smaller weights create more loose stitches. Larger-weight yarns can be too bulky and get caught up or even jam your machine.
Yarns consisting of animal products like wool tend to be not as tightly wound and can end up with split stitches or jamming your machine.
If you don't yet have a circular knitting machine but would like one, there's also this budget-friendly version! I have the Addi but I have watched tons of YouTube videos about this one and it seems to be exactly the same. The only difference is it has 2 more pins so your projects will be slightly larger. I think the next yarn toy I get will be this smaller 22 needle Sentro machine!
Let's be friends on YouTube for more free patterns!
I recently made a video tutorial of how to make a quick hat using the Addi Knitting Machine. Check it out below!
My favorite yarns:
Lion Brand Pound of Love is by far my absolute favorite yarn to use in my Addi. Not only can you make 10 or more hats from one skein (depending on the size), it is super economical. I've made over 30 hats with this yarn and have had literally no problems. The soft texture glides perfectly in my machine and makes hat making enjoyable and quick! I stocked up on nearly every color during one of Joann's big sales and had an additional 30% coupon making each skein only $5.99. I recommend doing your research and waiting on the right sale and coupon combo for the ultimate deal!
I love this Cotton from Hobby Lobby is a natual fiber (100% cotton) but the way it is constructed makes it glide through your machine like a dream. The finished project is very soft and not stiff. I personally have to use more tension with this yarn because the stitches can end up a little loose but experiment on your own!
Caron Simply Soft is another great yarn to use! With tons of colors to choose from and a classic sheen that makes any project look trendy. I do recommend a slightly tighter tension with this yarn. I also do not recommend using this yarn for waste yarn as the more times you run it through the machine it begins to split and not work as well.
Bernat Velvet is a bulky weight yarn (size 5) but works on my Addi like a dream. I guess its the chenille almost tube like consistency that helps the glide through the machine. Since it is a more bulky yarn, I like to use minimal tension.
Bernat Baby Velvet is the more lighter weight (size 4) sibling of the original Bernat Velvet. This yarn works just as great but since it is lighter I use a tighter tension. Another great perk of both types of Bernat Velvet is that it's machine washable and very durable. Great for making items for kids (and adults) that tend to be more tough on their belongings.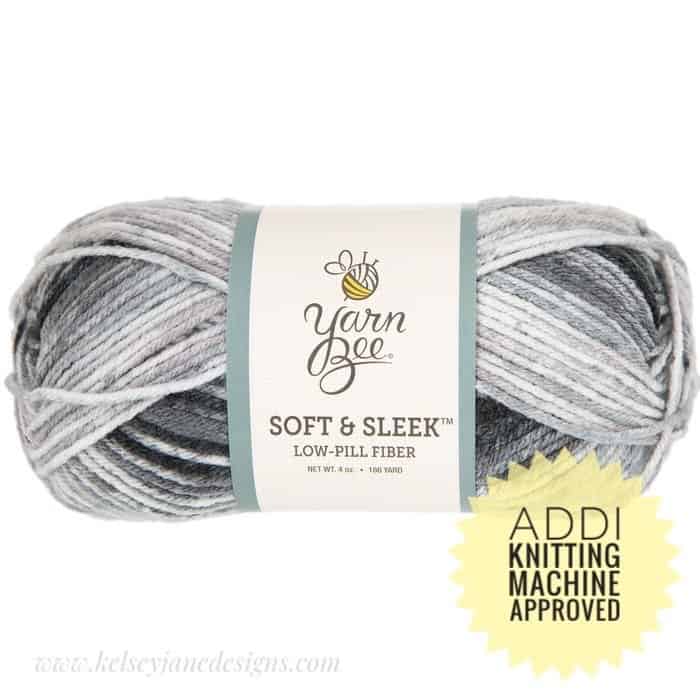 Yarn Bee: Soft & Sleek Low-Pill Fiber is a great economical choice for fun prints and color schemes. I love all the fun color options and seeing how great they turn out after being ran through the Addi. The Low Pill aspect helps the yarn glide through your machine and makes a more durable finished product.
Just like the previous yarn, Lion Brand Basic Stitch Anti-Pilling is a very durable yarn that glides through your machine. Tons of great color options gives endless options for your project. With both anti-pilling yarns your finished project will be very sleek and clean looking.
Brand new on my list is Lion Brand Feels Like Butta. I had a question in the comments about this yarn and I immediately could not resist trying. Luckily I had a ton of it in my stash left from my Cooper Baby Blanket (Tunisian Bobble Chevron). This yarn is incredible in my machine! The chainette construction prevents snags and helps glide through the machine like literal butter! I made a 112 row tube and then sewed together the ends to make this ear warmer. It is so incredibly squishy and soft! I recommend a relatively tight tension for this one. I felt like it used more yarn as well but I think its just the dense nature of the yarn and that its a much smaller skein than my go to, Pound of Love. My 112 row ear warmer used approximately 2.5 ounces of yarn.
There are many more yarns that work great besides these mentioned. If you have a suggestion or a yarn you love to use mention it below in the comments!
The absolute worst yarns you should steer clear of:
Red Heart Classic
Big Twist
Paintbox Simply DK
Lily Sugar'n Cream
Red Heart Classic is the absolute worse yarn I have ever used in my Addi. I purchased it on Amazon because it was the exact shade I needed to make a hat as a gift and it would arrive quickly. This was a terrible idea. The finished hat was very stiff and just didn't feel natural. Not to mention I had to stop almost every row to correct dropped or split stitches. It was a total nightmare and I was borderline embarrassed of the finished project.
Big Twist yarn from Joann's is an economical choice but was a hit or miss in the Addi. Sometimes my machine tolerated it while other times it was a complete failure. Due to my experience being so unreliable I would not recommend it.
Paintbox Simply DK was another hit or miss for me. I feel like overall this yarn can not be very consistent in it's texture which led to a lot of splitting on the machine. I plan on trying the cotton version in the future in hopes of having better results.
I have a ton of Lily Sugar'n Cream in my stash and was hoping it would work in my Addi to make washcloths. Well instead it constantly split and just looked terrible.
Do you have another yarn that you absolutely love or hate to use in your Addi knitting machine? Comment below to let me know your experience!
Great Patterns for your Addi Knitting Machine
If you are like me then you learn by example and for me the more examples I have of something the easier it is for me to learn. When I first got my Addi, I was so confused and lost until I found these patterns on ETSY. I am not affiliated with the seller, but I will say she is a top notch creator! Her patterns are extremely detailed and filled with high quality photos. Honestly, detailed is an understatement these patterns/tutorials are outstanding. I just looked back at the on I purchased for her zig zag color changing hat and its a whopping 12 pages long! Filled with excellent information and photos. So please go support a small creator, like myself and check out her patterns!
If you search on ETSY there are hundreds of fun patterns for your knitting machine. Everything from the basics of hats to adorable stuffed animals. I don't want to mention any patterns that I haven't personally tried but go see for yourself!
Addi Fair Isle Hat (Mommy & Me Sizes)
Be sure to follow me on Pinterest and check out my Board that is completely dedicated to yarns and patterns that work well in the Addi knitting machine.