Super simple DIY handprint, or footprint, Valentine's Day home decor project that's toddler approved! Using the heart charcuterie boards from Target's Bulleyes Playground, paint and dot markers. You'll quickly have a wonderful Valentine's Day gift for grandparents or loved ones.
The following post contains affiliate links. By clicking on the links you are supporting my site at no cost to you and allowing me to continue to create free content. I promise, I only share products that I use and love! For more information please see my disclosure page.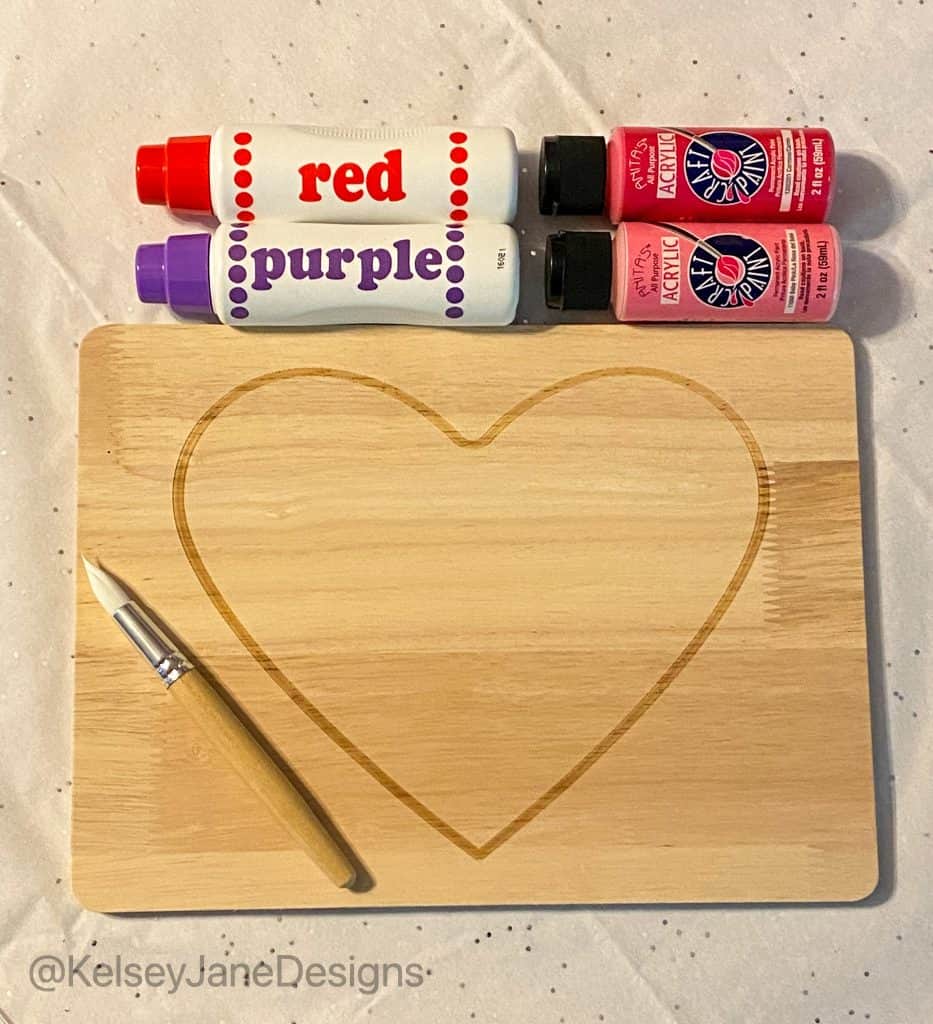 This year for Valentine's Day I found these adorable rectangle heart charcuterie boards from Target's Bulleyes Playground for only $5 and I was instantly inspired! The rectangle shape of these boards make them really easy to prop up anywhere in my home as Valentine's Day decor. When I googled the boards they seemed far and few between but, you could literally use any rectangular piece of wood for this project. I wanted to find an easily found alternative given that Target probably will sell out quickly and won't have them in future years. So, I found this 4 pack of wood panels that would work really great! It's a super affordable price given you get 4! Then I was thinking you can buy either foam or wooden heart and trace the heart shape on the board. Better yet if you are good at drawing you can free-hand the heart.
So first, I traced the heart on some scrap construction paper and cut it out. Then I taped it over the heart where I was going to put the kid's handprints on. Next, I let my 2-year-old use his Do A Dot Markers to make dots all around the border of the heart. These dot markers are so much fun for young kids and there are tons of free printable activities to use them with on Pinterest. If you don't have the markers, you can also easily have your kids do their thumbprints all around and it'd be super cute!
After the dots, I took off the center heart and did my kids handprints. I used some basic pink Acrylic paint for their handprints. Of course, you can use any acrylic paint in any color you'd like!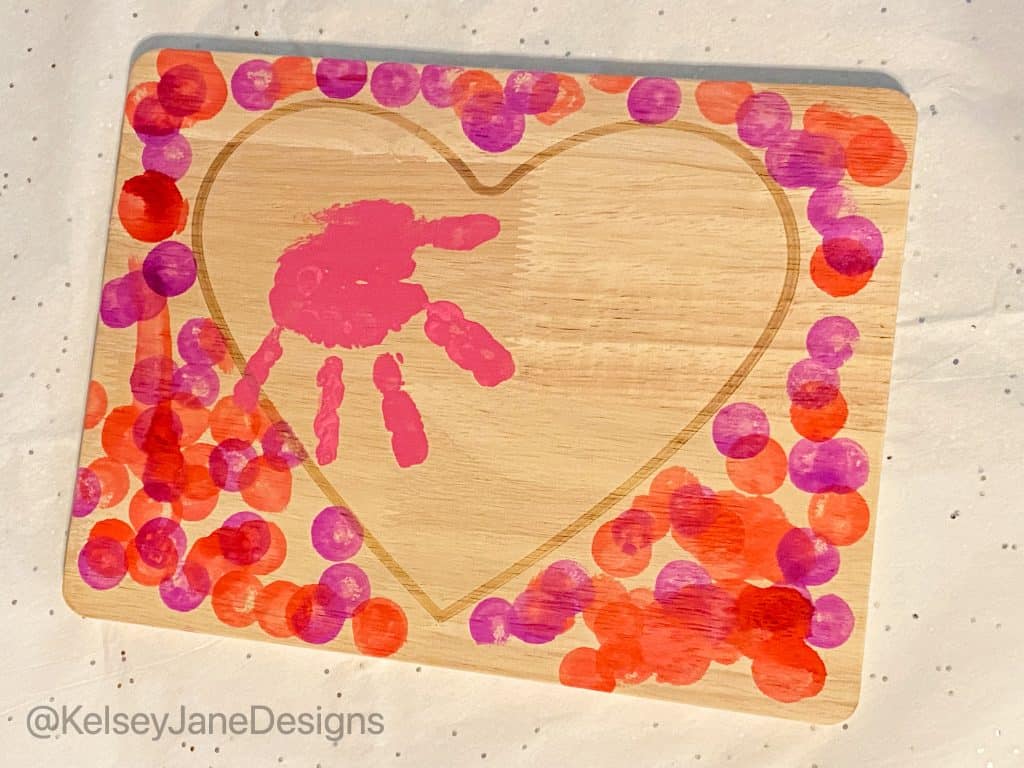 Finally, once the paint was dried, I wrote using a Sharpie Gel Pen, "Happy Valentine's Day" with the year. If you haven't seen the Sharpie Gel Pens yet, they are the best! They don't bleed easily like a traditional Sharpie fine felt tip. I love having them to write on any surface like kids books, art projects, school supplies and more.
Another optional finishing touch is you could easily add a coat of polyacrylic on top to make it food safe again. Since this board was originally intended to be a charcuterie board this is a great option! I highly recommend getting the spray version. The traditional paint is a little finicky in that if you shake it you might end up with bubbles that will literally never go away from the paint and could potentially ruin your project. I have ruined a can in the past so trust me. Also keep in mind that there are several different finishes (matte, satin, semi-gloss, etc) so pay attention to ensure you get the look you want.
Now, the tag on the bottom from Target says to wipe clean, not submerge, since this wood is very porous and could cause mold growth. With that in mind, you might want to fully seal it by adding polyacrylic to the edges and bottom as well. That being said, I did not do a clear coat on top of mine. I plan to use it as home decor and like the unsealed wood appearance.
Overall, I am so happy with how this project turned out! I hope you enjoyed and make some fun Valentine's Day memories with your kids!
Save on Pinterest for later!