Matching Crochet Outfits for Kids: Patterns, Tips & Inspiration
The following post contains affiliate links. By clicking on the links you are supporting my site and allowing me to continue to create free content. I promise, I only share products that I use and love! For more information please see my disclosure page. 
How to create and crochet coordinating outfits for kids (both boys and girls). Find inspiration, patterns, and tips. Perfect for family photo shoots and can easily be passed down to future generations!
You'll notice that the majority of my inspiration items are all warm-weather items. Well, that's because I live in Florida and we don't get much use for sweaters, mittens, and beanies. For this reason, I felt it was important to write this blog post. I found endless patterns of kids matching items for cold weather gear but found it extremely difficult to find summer patterns for boys. I knew if I had this problem then other people did as well.
As a mom and creator, it is incredibly rewarding to make something for my kids that has the potential to last many generations. I imagine showing these little shirts and dresses to my kids when they're older along with photos of them wearing them and much further down the line being worn by potential grandchildren. I think it's safe to say that as makers we are all pretty sentimental and for me, it's my motivation to create.
Don't be intimidated if you have never crocheted a garment before…
I honestly recommend starting with kid's clothes. Why? There's a minimal commitment (in time and yarn) and if you mess up and need to frog, it is incredibly quick to undo and remake entire sections. When you're making something for yourself it's physically larger so you don't get that instant satisfaction and can lose motivation since it takes longer to start seeing the big picture of your finished object. Once you have a few children's garments under your belt you'll feel confident enough with constructing clothes to be able to make the necessary adjustments on a project in your own size giving yourself that desired custom fit that comes with experience.
Most of these patterns I have linked are not free. But don't get discouraged because they are worth every cent to purchase. Your supporting someone's dream and the amount of math they had to do just to come up with these designs in so many sizes is tremendous. I'm not a math fan so it's completely worth it to me.
There are options if you don't want to pay… You can easily customize your own article of clothing using an existing item that already fits the intended wearer. There are soooo many videos on YouTube that can show you step-by-step "how to crochet clothes without a pattern." I recently made a video where I did just that to make this adorable Princess dress. #shamelessplug
Tips for choosing the right yarn.
For yarn choices, I always recommend going with what the pattern recommends. If it's unavailable, then you should check out www.yarnsub.com. I am not affiliated with them but I am completely obsessed. I have learned soooo much about fiber and yarn since I started using their site. It's completely free and so easy to use.
Some general basic rules of thumb that I like to go by are natural fibers are always best. Whether its plant or animal, I recommend having some amount of natural fiber like cotton. It'll give you so much more drape and flow. But, that being said sometimes 100% cotton is not the best. Cotton can easily stretch out and when little ones are in charge, there's a chance the neck line of their shirt might face a little abuse. So keep in mind when yarn shopping, whoe item is for and what is the purpose. If its going to be worn frequently, you might want to have a synthetic blend.
Yarn Suggestions
I have had great experience making kids clothes with the following yarns:
Let's get to the patterns and pretty pictures!
Princess Time
These outfits that I made for my kids for a family photo shoot are simply the best! As I mentioned earlier, I made the dress myself without a pattern and recorded all the fun along the way here! It was really easy and I think any eager beginner can make one as well.
For the dress and my son's shorts, I used I Love this Cotton yarn in Sage and Warm Blush. Both turned out great but I will say the yarn stretches which made it a little tricky to keep my son's shorts pulled up while he was running around the beach.
The pattern for the shorts is by Babes in the Wool Design and ranges in size from newborn to 4 years old. She has several different short patterns in her ETSY shop! The top I paired with it, I found online from Target as part of their Grayson Collective line. I did find quite a few henleys on Amazon as well for backup.
Falling for Copper
I am just obsessed with this color every year for fall! For both tops, I used Bernat Softee Cotton yarn in Sandstone. This yarn works great, its incredibly soft and holds up very well being machine washed. It is 40% acrylic but I think this is a good thing and helps keep shape and for durability.
The little girl's top is truly a gem! Its the Liv Granny Square Top and come in both adult and children's sizes. The pattern is by isWoolish and I highly recommend checking out her other mommy and me patterns on ETSY.
The little boy's top is another excellent find! This one took some deep internet diving to find this t-shirt pattern by BrianaKdesigns. Worked up really quick and ranged in sizes from infant to over 10 years old!
When going to Disney… DIY Mouse Ears are the way to go!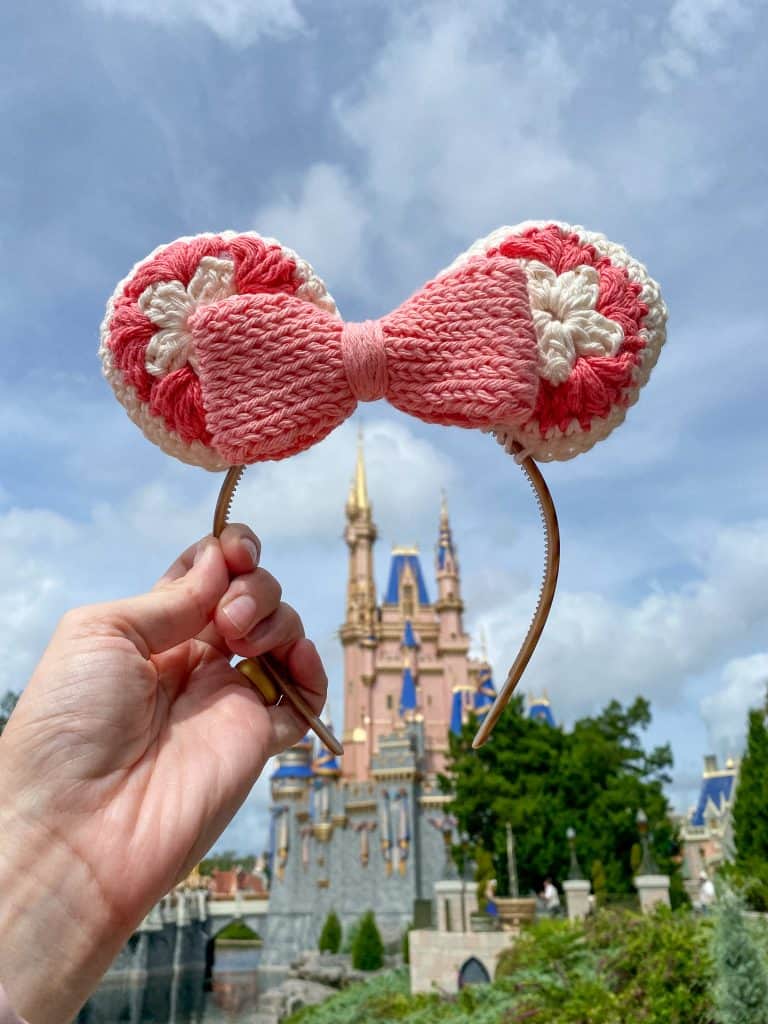 If you search Disney on Pinterest then you know there's a massive corner of the internet filled with Disney outfit planning. And no Disney outfit is complete without matching mouse ears. I have a great video with how to crochet from start to finish these granny square mouse ears. They are really quick and simple to make and you can make them in any size based on the headband you use.
Bringing baby to Disney? I even have simple instructions on how to crochet a headband for the tiniest of parkgoers.
This pattern and video tutorial are completely free on my blog and you are absolutely allowed to make these and sell them! I just kindly ask that you link back to my blog so other makers can find the pattern.
Summertime Fun Bucket Hats
These hats are simply the cutest! Perfect for any summer outdoor outings. This pattern is called Sun and Sand Bucket Hat by Pam Grice (Made with a Twist and the Crochetprenuer) and ranges in size from infant to 10 years old. The hat works up really fast and the pattern is extremely well written! I think it would be the cutest thing ever if someone made a matching set for their grand children, paired with white or even tye dye t-shirts and jean shorts it would make the cutest photo ever!
I used Lily Sugar n Cream yarn and to add some fun texture I used a scrubby yarn for the center stripe. I bought the pattern on Ravelry. I personally try to buy them on there when possible because it makes it so much easier to access and find on a later date. I also like using the knitCompanion app and its nice how my Ravelry patterns instantly connect for crocheting on the go (#notsponsored but its a great free app). If you are not on Ravelry it's also on ETSY!
Overall its a great pattern and I plan on making a new set every summer for my kids!
Be sure to Pin this pattern for later as I plan to update it as I make more handmade wearables for my kids!
If you are stuck around this long, thank you for supporting my small business, and be sure to check out my other free crochet patterns!