I Love This Cotton: Yarn Review + Free Patterns
The following post contains affiliate links. By clicking on the links you are supporting my site and allowing me to continue to create free content. I promise, I only share products that I use and love! For more information please see my disclosure page. 
I love this cotton from Hobby Lobby is a great economical cotton yarn loved by both beginners and seasoned fiber artists. Coming in nearly 50 different colors, this category 4-weight yarn is perfect for baby blankets, garments, housewares, and much more. Stick around to learn some valuable tips for this yarn and a great variety of free patterns!
The Stats
Variations: Ombre, Print, Solid, and Sparkle
Weight: 4 / Medium, Plied Texture
Fiber: 100% USA-grown cotton
Needle Size: 5mm (8 US) (6 UK) (Knit Gauge: 18 stitches x 23 rows = 4″)
Crochet Hook: 5.5mm (USA Size: I-9 – UK Size: 5) (Crochet Gauge: 12 single crochet x 15 rows = 4″)
Ball Size: 3.5 oz; 100g; 165m (180 yds) (variations are different)
Care: See Below for my tips 🙂 (Machine Wash, Warm) (Tumble Dry, Normal) (Iron, Low) (Do Not Bleach) (Dry Clean, Any Solvent)
Getting Down and Stitching
This yarn is a dream to work with. Minimal if not any splitting, knots work out like a dream and it's pillowy soft. This yarn is perfect.
This yarn has a plied texture that creates a gorgeous stitch definition. I love bobbles, bobbles and more bobbles with this yarn!
Care and Durability
The real question I have about yarns, especially some of the more affordable varieties, is how well is it really going to hold up to daily use and the sometimes unforgiving washing machine. I can say from experience this yarn does not disappoint! The blankets I have made hold up beautifully and machine washes well.
My only complaint, which really directed toward the cotton fiber content. When washing this blanket, be prepared to run an extra spin cycle because it does not want to let go of moisture.
How I Machine Wash My I Love this Cotton Crochet Items…
Keep in mind, every washing machine and dryer is different. Also, every yarn brand is different. The following is the routine I follow and recommend always being extremely careful the first time you machine wash a handmade item.
To be honest, I Love this Cotton, is the only brand of yarn that I regularly machine wash. For everything else, I usually do a soak, rinse-free wash. So much love goes into these projects I am always extra cautious. That being said, the items I make out of this yarn are usually items that get frequent use.
My routine for washing usually consists of washing the item in a garment bag, either alone or in a cycle with kid/baby clothes, with a mild detergent, liquid softener, an oxygen brightener (like this one), and if there are bodily fluids involved (cue the toddlers) I use this to remove odors. I always choose a delicate cycle and cool/tap-temperature water. I always run an extra spin cycle after the wash is done to remove excess water.
I do occasionally use the dryer but hands down prefer to lay flat to dry. When I have the time, I will lay a towel down, lay my item flat on top, and then roll the towel to release extra moisture. After, I transfer it to a new dry towel and will lay it under a fan. Do NOT hang it or lay it on something like a hook or shower curtain rod when it is wet. Gravity and the weight of the water will cause your item to stretch in unpleasant ways.
When I use the dryer I usually keep it in the garment bag and dry it on a no-heat, delicate cycle with items like baby clothes. Never dry your item with zippers or sharp items like bras. The little hooks on a bra would love to sink into the stitches and pull them right out. Kids and baby clothes are usually so tiny they act as great cushions in the dryer.
For drying blankets alone, I like doing a very fast, no-heat, cycle in the dryer with a clean dry blanket (that doesn't shed, think microfiber) and a few wool dryer balls. This helps to distribute the moisture quickly and minimizes the exposure to time in the dryer. I then take it out when it is still slightly damp still and lay it flat to dry.
I know that all sounds complicated, but once you wash a crochet item once, you'll be confident!
My Opinion
This yarn is an outstanding YES for any project calling for cotton yarn.
It claims to be a worsted weight yarn but I call it a DK / light yarn all day. I highly recommend using this yarn for any home or blanket project. If your substituting it for a wearable like a tank top or cardigan, awesome idea, just be mindful to take the time to make a swatch and compare it to the pattern.
I personally prefer this yarn over Lily Sugar n Cream. It's much softer and it holds its shape better. The only annoying part is Lily is so much easier to find and buy. There are probably 6 stores in my area that carry it and are closer than Hobby Lobby. But overall, I found it a perfect substitute for Lily but a million times better. It's a softer, smoother texture and it hardly ever splits! Then of course there's the expansive color options. I Love this Cotton has so many gorgeous color options.
Where to Buy
This one may seem obvious but clearly Hobby Lobby is the best place to purchase this yarn without dealing with online mark ups. I highly recommend keeping an eye on the weekly sales flier and go stock up when all yarn is 30% off. But as any experienced crafter knows sometimes the store doesn't have enough of the color you need. That's when Amazon is here to save the day! Yes, it is MUCH more expensive but totally worth it when you need one more skein for that idealic baby blanket.
Another Option…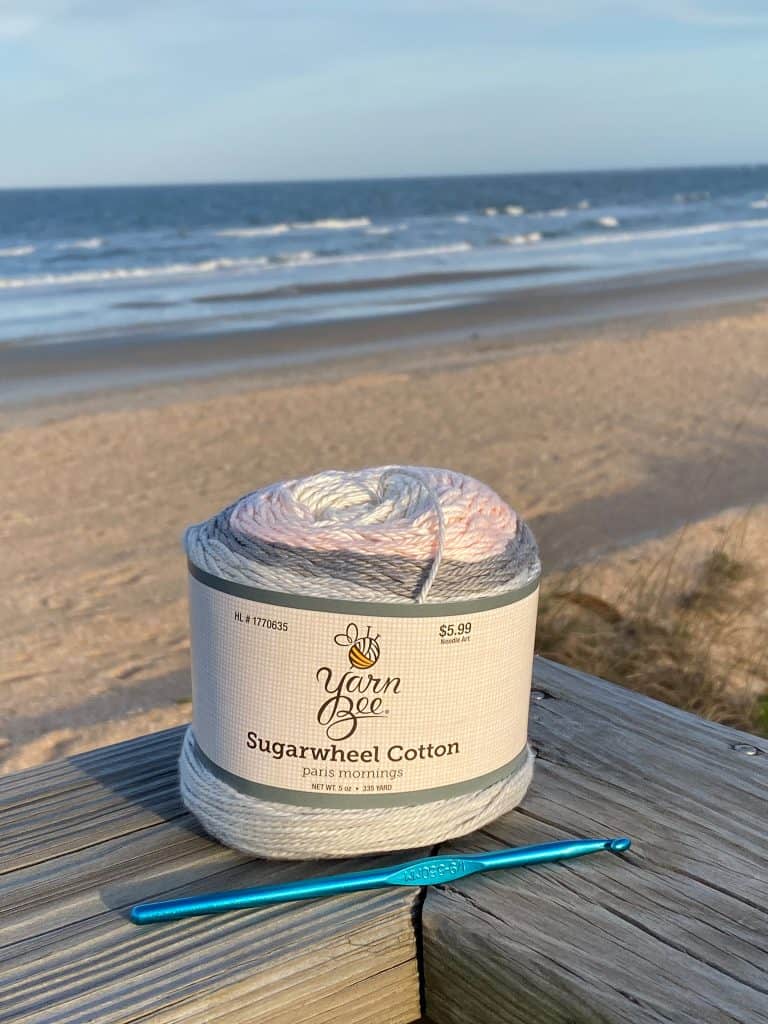 Another Hobby Lobby yarn that I enjoy as well is Sugar Wheel Cotton. It comes in cake form with fun color-pooling options. It is slightly lighter but I enjoy holding two strands together to make homeware items such as dish towels. So if you're going to Hobby Lobby, check out this one as well!
Free Patterns
I won't pretend that I know that's why everyone is really here! I have a compilation of FREE crochet patterns, including yarn requirements, across several categories. Enjoy!
Baby Blankets: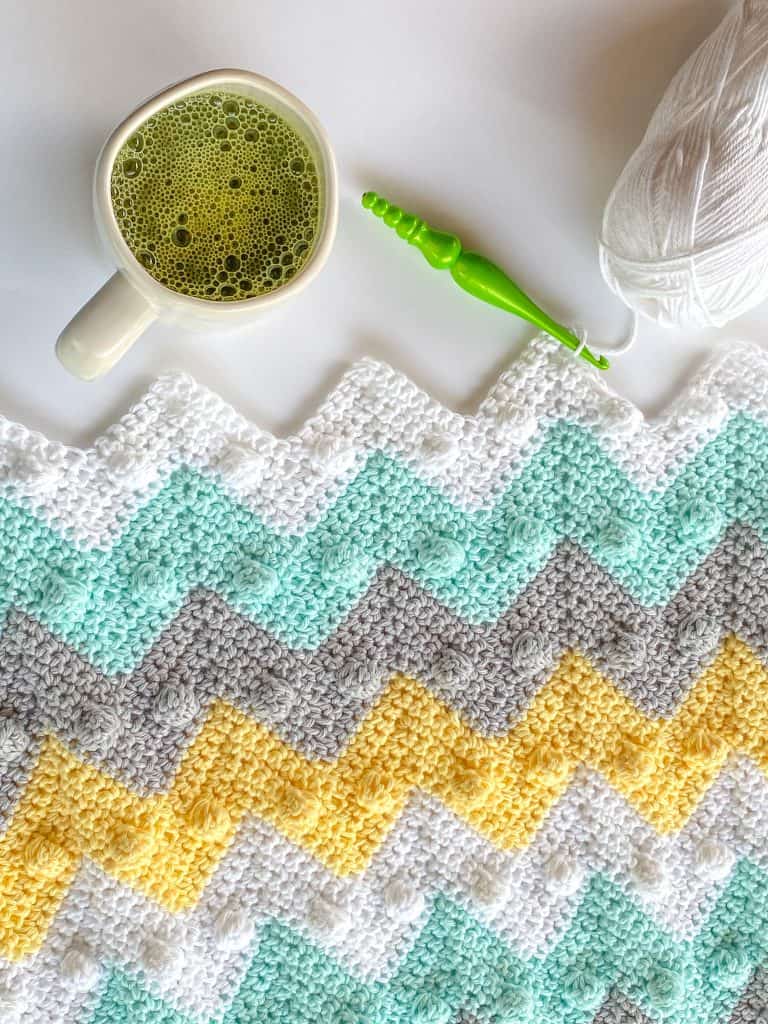 Finished Size: Stroller: 30″ x 36″ (easy instructions for making any size)
Yarn Needed: 1900-2400 yards total
I Love this Cotton Yarn in
–White (4 balls total; 11oz + 1.1 oz for the border; 622 yards total)
–Buttercup (3 balls; 8.5oz; 437 yards)
–Dove (3 balls; 8.5oz; 437 yards)
-Mint (3 balls; 8.5oz; 437 yards)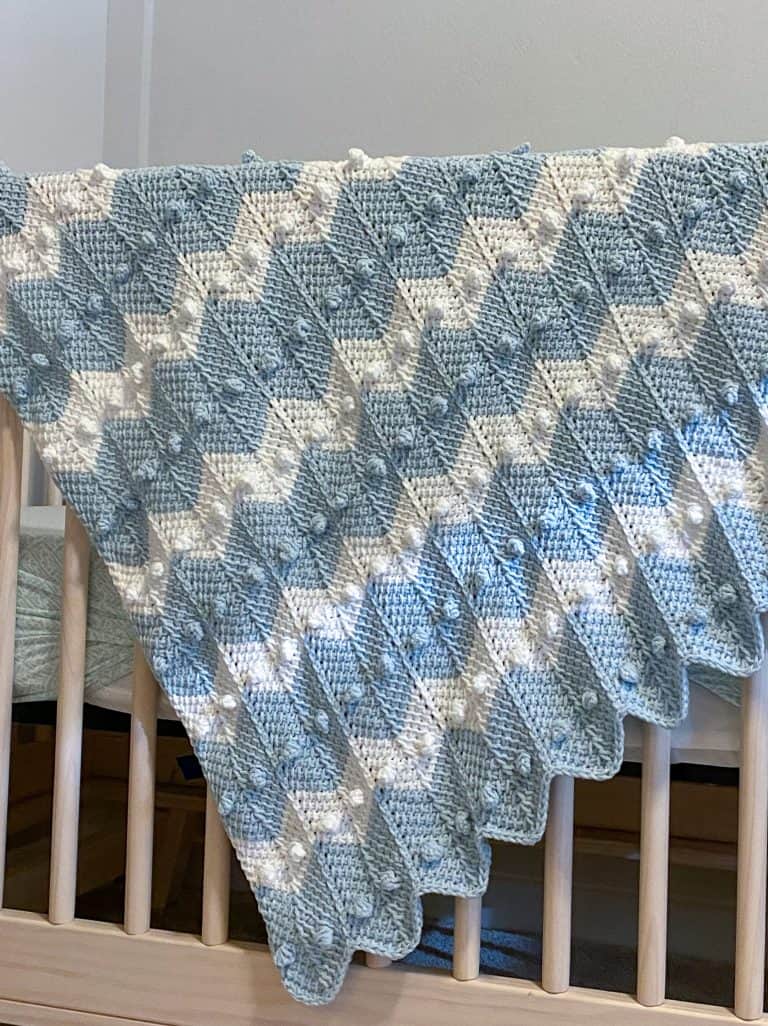 This pattern is the Tunisian twin of the first blanket listed. I originally made this blanket using Feels Like Butta from Lion Brand but it would be just as gorgeous with I Love this Cotton.
Wearables:
This yarn is great for wearables! Keep in mind, the cotton nature does lend to stretching. I have made shorts for my son that after some intense rough playing stretched out beyond recognition in the waist. Luckily I was able to hand wash and block them to restore them to their original shape.
Make along with me this gorgeous princess dress! I have a free video tutorial where I will show you, step by step, how to make this dress in any size!
I made mine in 18 months with the color Warm Blush and used approximately 2.5 ounces.
Circular Knitting Machines: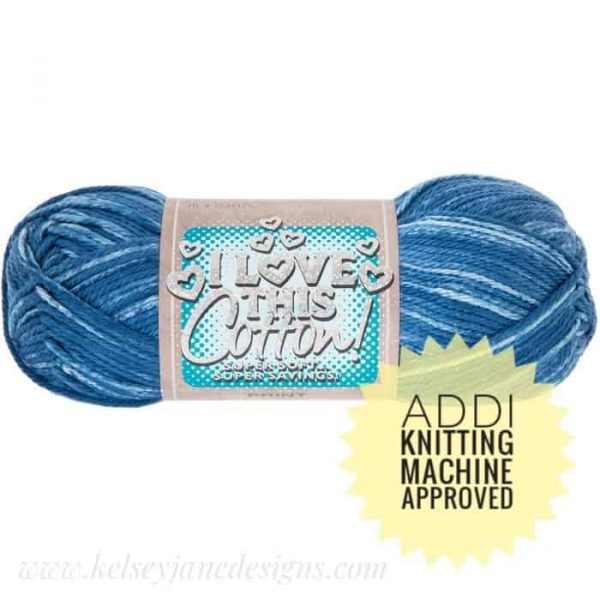 If you have an Addi or Sentro knitting machine then you must stock up as much of this yarn as possible! I love using this yarn on my Addi to quickly make hats and headbands. If you have no idea what I am talking about, I have a full video tutorial on how to make a hat on a circular knitting machine.
Bags:
For this tutorial, I used Yarn Bee's Sugarwheel Cotton from Hobby Lobby which is basically exactly the same as I Love this Cotton but it comes in cake form with a color striping option.
This project used exactly 1 cake of yarn (335 yards) but I wrote the instructions so that you can easily make this bag in any size imaginable!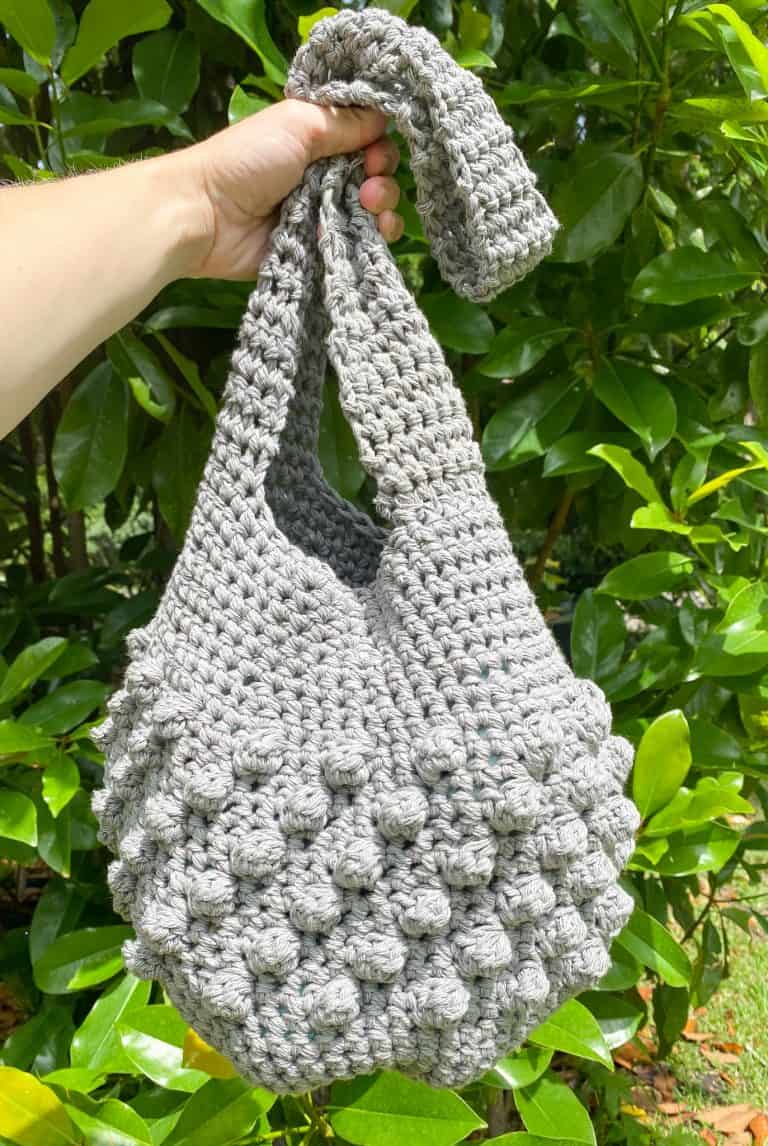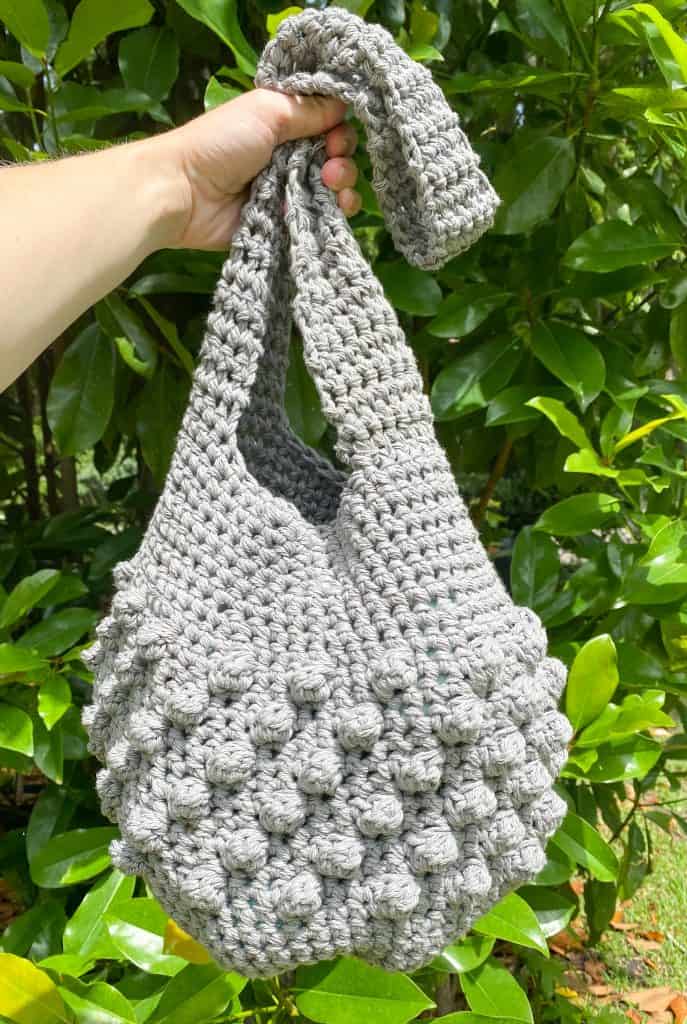 I just can't get enough bobbles with this yarn! I'm telling you the structure is fabulous for bobbles. I made this original pattern using multiple strands of Lilly Sugar n Cream held together but I've been wanting to remake it using I Love this Cotton.
Housewares:
From coasters to dish towels. I Love this Cotton is such a great affordable yarn to personalize your home with.
I am just obsessed with anything art deco when it comes to design and architecture. While coming up with a common problem of my kids constantly pulling my towel off the oven and depositing it who knows where around the house. With all the silliness of kids the problem is real.
This project used exactly 1 skein on I Love this Cotton Yarn. You can easily customize this and make in any size, with or without the ring.
For this pattern, I used the Sugarwheel Cotton as well. I wanted that striped ombre look of the long self-striping. I also held two strands together, creating a super pillowy soft, and ultra-absorbent towel.
I used exactly 1 cake.
This was one of my very first crochet patterns. It's extremely simple and yet darling. It has held up great over the years and I still get excited to put use it every year around Valentine's Day.
I used I Love this Cotton in Speckled and paired it with a cotton scrubby yarn in pink for the heart and border.
More Free Patterns (Ravelry)
Knitting Patterns:
I am a very novice knitter so I am not fully comfortable recommending one pattern over another. But, I did do a little research on Ravelry and there are over 14,000 knitting projects with I Love This Cotton! Here's a link to those results you can filter and find exactly what your looking for. If your not on Ravelry, it's a total must for all fiber artists!
I really hope you enjoyed this review and pattern round-up!